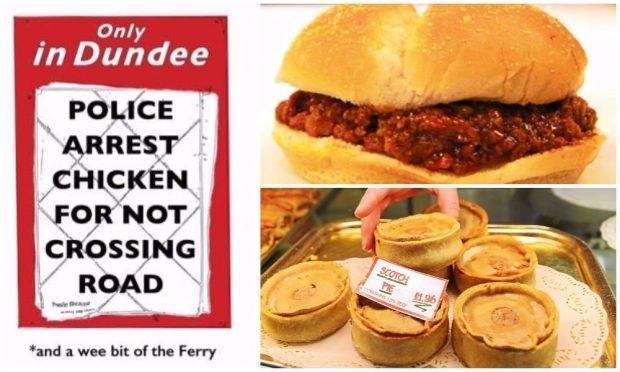 Mince "pehs", a circle, the word "brae" — and more mince "pehs".
That is what an outsider — a native of New York — has learned can "only be found in Dundee".
Author and journalist Deedee Cuddihy, who now lives in Glasgow, pondered the thought — does Dundee have something to teach Scotland's bigger, better-known cities about humour, kindness to strangers, walking up steep roads and pastry?
The answer was a resounding "yes", according to the writer.
She has now released her "findings" in Only in Dundee (and a wee bit of the Ferry).
As part of her research, Deedee visited the City of Discovery more than a dozen times to observe the lives of Dundonians in their "native habitat".
The book, which she started writing in January, is a collection of mostly humorous, first-hand anecdotes and photographs.
It includes dozens of excerpts, including one from local musician and poet Gary Robertson.
He said: "Dundee is probably the only place in the world that calls a roundabout on a road, a circle."
The book also tells some of the Tele's strangest stories, including a 55-year-old Dundee man appearing in court charged with recklessly producing household electricity from a home-made generator rigged up with a pulley, a car battery and cans of petrol.
Deedee first visited Dundee in 1968, describing the city as "the American Wild West".
Speaking to the Tele, Deedee said: "I didn't really appreciate Dundee's charms when I first visited the city as a student back in 1968.
"I remember we went into a pub and in a scene reminiscent of the American Wild West, the place went completely silent as the customers — who were all blokes as I recall — turned to stare at these strangers in town.
"We beat a hasty retreat and I didn't return for almost 20 years."
But having returned to Dundee at various times this year, her impression has changed.
She said: "In the course of research for this book, I've travelled up from Glasgow more than a dozen times for free using my pensioners' bus pass and have discovered that not only is Dundee unique but the Tay really is silvery.
"As an arts journalist, I went on to write about the terrific schools' programmes being run by the DCA and the McManus but it wasn't until I came up to interview the delightful tattoo artist Heather Dewar that Dundee's quirkiness was revealed to me."
Deedee said it was Dundee's food and some of its sayings which made it unique.
She added: "I tried a mince roll which I had never had before. It was better than I thought it would be.
"At the bus station cafe, somebody was eating a bowl of mince and chips. She let me take a photo of it.
"Also one day, when I was asking for directions to Lochee, a kindly postman told me to just carry on up that brae. Having never before come across the word brae outside of a poem by Robert Burns, I warmed to the city from then on."
Thinking the people were "so funny", she jotted down in her notebook "only in Dundee".
She added: "It just struck me that Dundee had something going for it.
"It's quirky, it's unique and quite surreal. The architecture in Dundee is amazing."
The book is available from selected shops.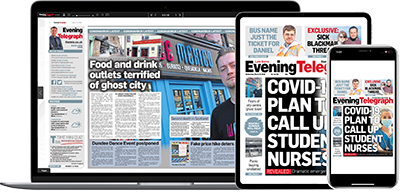 Help support quality local journalism … become a digital subscriber to the Evening Telegraph
Subscribe