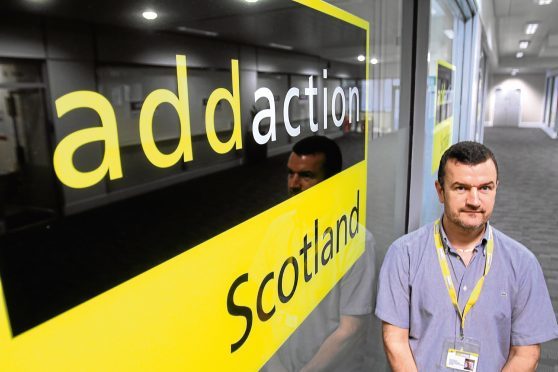 The boss of a drug and alcohol treatment group says it is "raring to go" in 2018 after a "really successful year".
Addaction Dundee has supported about 430 people recovering from drug and alcohol misuse in 2017.
Service manager Dave Barrie believes this year is the one in which the conversation around drugs and alcohol has started to shift from "addiction" and "treatment" towards "recovery".
He told the Tele: "It's been a really successful year and we're in the process of taking stock of some of the different projects we've been working on.
"I think some of the perception is slowly shifting and that the recovery community in Dundee is starting to take shape and pick up a bit of momentum.
"Just as with any movement, it takes time — and the more people who get behind it, the quicker it will grow and the stronger it will become."
This year, Addaction has launched a number of initiatives to help ensure that those who seek assistance can be supported into a process of recovery.
Key among these were Recovery Drive Nights — drug and alcohol-free social evenings featuring local musical talent.
Band Be Charlotte helped to launch the first event in February.
Since then, the monthly parties have grown and now welcome up to 70 people at a time.
Addaction also launched a family support group to help those closest to people in recovery. Volunteers built a Garden of Hope (inset) at its base in the Signpost Centre in Whitfield, which was opened by Health Secretary Shona Robison.
Dundee hosted the Recovery Walk in 2017, a trek across the city undertaken by those in recovery, along with their friends, family and support groups, including Addaction Dundee.
Mr Barrie continued: "We're seeing a lot of positive stuff on social media — positive messages of hope and recovery. All of these things put together mean things are starting to shift in Dundee."
However, in a year that saw Dundee record more drug deaths per head of population than any other local authority area in Scotland, Mr Barrie added he was under no illusion there was a challenge ahead and added: "If anything, it makes us even more determined and impatient.
"We do not have time to wait."