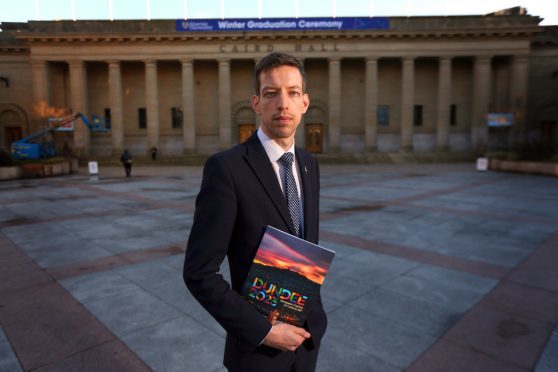 The leader of Dundee City Council has said it will not give up on its ambitions despite a cultural city bid being sunk by Brussels and Brexit.
John Alexander told the Tele the European Commission's decision to discount UK cities from taking part in the European Capital of Culture 2023 contest was a "body blow".
The commission said Dundee, and other cities vying for the title, could not be considered because of the UK's decision to leave the EU.
However, the administration leader said that, while the European bid was no longer on the cards, there were hopes that its ambitions could be salvaged and made new.
He said: "We're absolutely gutted, but I'm not going to sit here and take it as the final straw. This isn't dead in the water. We'll continue to look for opportunities and use the cultural renaissance that we have been working on for a number of years to build something."
Projects that could yet be saved include showcases of Dundee's 52 neighbourhoods, and celebrations of the city's European connections.
Mr Alexander continued: "We're going to look at how we can still deliver a programme. An advantage is that we're no longer constrained by that timescale — 2023 would have provided a great opportunity for the city, but whether it's 2020, 2021, or 2022, we will absolutely do something.
"We will regroup and refocus and make sure we continue on the journey we've been on for a number of years. The extensive work that has gone into this isn't going to be lost."
Dundee waved off its City of Culture bid nearly a month ago — and Mr Alexander added that he was especially unhappy at the timing of the commission's decision.
Bid reps had been booked to travel to London in three days' time to make a pitch to European judges.
"I think this is something that has been completely mishandled and misjudged," he said.
"It doesn't reflect the values of the competition, of an inclusive Europe. The whole ethos of the Capital of Culture has been done a disservice by this decision. The situation is abysmal — it's almost like being jilted at the altar.
"I imagine the judges are scratching their heads wondering why the process was allowed to go to this stage. Why do all of that and then, three days before our pitch, tell us we are no longer required? It's short-sighted, disrespectful, and a pitiful way to handle the process."
Mr Alexander is now aiming to meet with Scottish and UK Government representatives to discuss the matter further — and will be making direct representations to Brussels on behalf of the council.
In the meantime, he said he had been buoyed by an outpouring of support from across the country
He said: "The whole of Scotland shares in our disappointment, but in terms of the city's reputation and what people see happening in the city right now, there's real energy and a real enthusiasm — and that isn't going to go away.
"Other local authorities are absolutely behind what we are trying to do. We're going to use that to our advantage and we have the absolute backing of the whole of Scotland.
"We've had our fair share of disappointment over the years, but what we are very good at is rising from the ashes and dusting ourselves down.
"We'll need to rebrand and refocus —and that's exactly what we're going to do."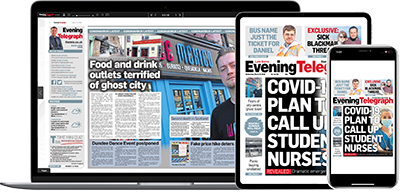 Help support quality local journalism … become a digital subscriber to the Evening Telegraph
Subscribe