It may be Dry January, but pubs in Dundee are just about keeping their heads above water in the face of a pub closures sweeping across the UK.
More than 11,000 pubs have closed in the UK in the last decade, while Dundee has 35 fewer pubs now than it did in 2001 and 1,000 fewer jobs in the industry.
However, the city remains above the national average for pubs per population, with 6.7 watering holes per 10,000 people. Nationally the figure is 5.8.
And in among the figures are the unlikely success stories of boozers brought back from the brink of extinction.
The Tavern, in Whitfield, has proved that new premises are finding their feet in a challenging market.
The pub opened its doors at the end of June last year.
Manager Elysia Rice said the pub still plays an "important" part in bringing communities together.
She said: "I'm not surprised to hear these figures. It can be a difficult market.
"Competing with national chains and well-established pubs is a tough task."
Elysia, who has been in the licensed trade for more than six years, said it was harder for city centre pubs to compete.
She added: "It would certainly be very challenging for a start-up pub to go into town.
"Pubs can still play an important part in the community.
"We've got a darts team in the pub and are in the process of starting a football team as well.
"The older generation maybe lost a bit of that when the Whitfield Club closed its doors.
"We now have a Tuesday Club which is mega busy – it's a great place for them to meet up."
Meanwhile licensee Dale Nelson reopened the Airlie Arms this month.
The 26-year-old has been working in licensed premises since he was 18.
Despite the fact the bar on Dundonald Street had been shut for several months, Dale believes there is potential to turn its fortunes around.
He said: "There are a lot of pubs in the city centre, the market is quite saturated.
"We felt there was potential here based on the level of housing.
"There are two football teams in the local area which bring in a good footfall.
"We had Partick Thistle fans in here last week who had visited the V&A.
"I believe city centre landmarks could have a positive impact on the surrounding areas."
Dale added: "There is a small team here working to make a go of this pub."
David Glass, president of Dundee Licensed Trade Association, said pubs were still a "cornerstone" of local communities.
He added: "There is definitely a feel-good factor in Dundee.
"People have said there are too many hotels but these companies don't come into a city on a whim."
David, who has owned Doc Ferry's in Broughty Ferry since 1998, said: "The pub is still a cornerstone of society, especially in local communities.
"There is no denying businesses have maybe had their fingers burned in the past, not realising the scale of what they've got themselves into.
"The days of someone coming in and owning a pub and leaving others to run it have probably gone now."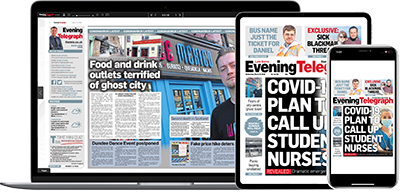 Help support quality local journalism … become a digital subscriber to the Evening Telegraph
Subscribe