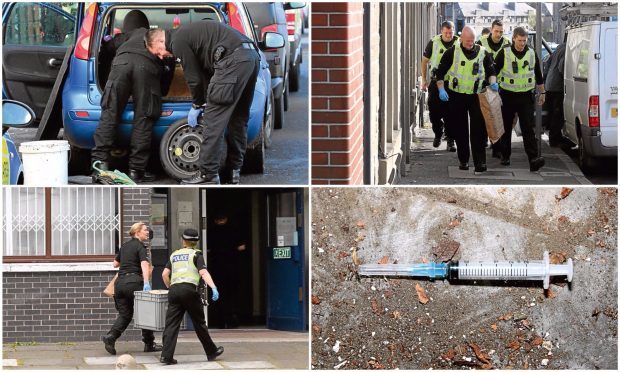 Stobswell has been revealed as Dundee's drug-dealing capital after a Tele investigation revealed the worst places for such crimes across the city.
Baldovan Terrace, near Baxter Park, was the scene of five separate drug busts last year — more than any other part of the city except Dundee's police HQ at West Bell Street.
A further four took place in both Dundonald Street and Raglan Street in 2016/17.
Lochee and Charleston are among the other places where drug dealing is most prolific, with Buttar's Place, Craigowan Road, Elders Court and Kirk Street being the scene of several arrests over the course of the 12 months.
Douglas Road, Reform Street, Clepington Road, Hilltown Terrace and Kingsway West also made the top 10 list.
Police refused to reveal the number of arrests made in each street but they did provide a list showing how many folk in total had been detained in these areas — revealing they were the scene of drug dealing worth close to £1 million last year.
David Macdougall, of the Stobswell Forum, said in some ways the figures were positive, saying it showed the drug-dealing problem wasn't being pushed too far underground.
He added: "I'm not convinced the issue is one that will ever disappear from our streets and in some ways I wouldn't like it to disappear as that would mean it's gone underground.
"We are aware that issues surrounding drugs are a problem in Stobswell and throughout the city — it is more noticeable in some areas.
"The Stobswell Forum and local community partnership programme are doing as much as we can to support folk with dependencies on drugs and alcohol."
Mr Macdougall said he believed support for folk addicted to drugs was the way forward and hailed the community hub at Boots in Albert Street as being essential for offering advice, information and support.
He added: "I believe the hub at Boots is doing some great work.
"It started out as an experiment and I know folk at Boots feel it is successful and they are hoping to expand.
"Increasingly, there is an understanding these days of people affected by this dependency and there is an increasing awareness in the support that is out there for them, rather than just persecuting them."
The figures revealed by Police Scotland show that substances worth £932,912.50 were seized in the top 10 list drug busts in Dundee last year.
That included seizures of drugs such as amphetamine, cannabis, cannabis resin, cocaine, diamorphine, heroin, ecstasy, methadone, Valium and prescription drugs.
The largest seizure was 1,014g of cocaine worth an estimated £400,000, although police did not reveal the street where that raid took place.
The smallest seizure was 0.1g of cocaine with a street value of £5, seized from three men.
Of the total number of accused, 58 were men and 17 were women.
The oldest was a 56-year-old woman in possession of heroin worth about £2,860 while the youngest were two 16-year-olds, also with quantities of heroin.
Superintendent Graeme Murdoch, of Tayside Division, said its anti-drug activity was all part of the force's Operation Slate which acts on public intelligence.
He added: "We act on a variety of sources of information and intelligence to carry out controlled drugs searches — on individuals concerned in drug-related criminality, their vehicles, homes and businesses and we target major suppliers and their networks.
"Our officers in Tayside are regularly assisted by road policing officers, police search teams, the dog section, organised crime investigators and other specialists who work with us to ensure that we get the best results from the intelligence available to us.
"Everyone can play their part by providing us with information, either directly on 101 or anonymously."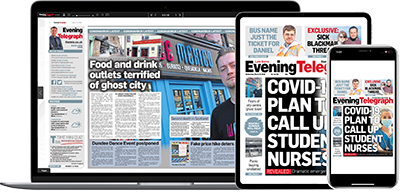 Help support quality local journalism … become a digital subscriber to the Evening Telegraph
Subscribe