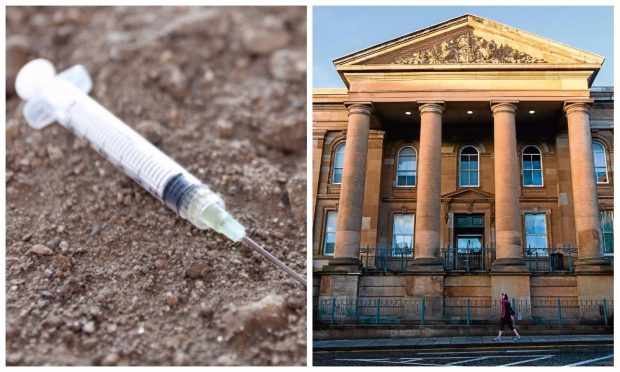 A heroin addict was twice found unconscious in a drug-induced state by members of the public in two separate places within a month, Dundee Sheriff court was told.
Horrified residents at different blocks of flats found John Lawrie, 31, of Strathmore Lodge, Ward Road, with uncapped needles and drug paraphernalia on July 5 and July 26.
One woman, a nurse, checked to find out if he was still breathing but was too scared to touch him and called police.
He admitted that on July 5, at Pleasance Court, Lower Pleasance, within the bin recess area, he culpably and recklessly discarded uncapped hypodermic syringes and drug paraphernalia and exposed the lieges to the risk of injury and infection.
He admitted the same charge, on July 26, at a common close in Union Street, and further admitted possessing heroin at Balfour Street on March 5 2017.
Depute fiscal Trina Sinclair told the court that on July 5, a female resident in Pleasance Court found Lawrie and a woman lying asleep on the floor of the bin recess area.
She was "alarmed at how they presented" and called police.
The pair awoke while paramedics treated them.
Meanwhile, on July 26, a resident saw two men "using pots and cooking heroin" in a close in Union Street.
They were later found "in a tangled heap in a drug-induced state", apparently having fallen down the stairs, the court heard.
The pair refused treatment when paramedics turned up.
Solicitor Jim Caird said Lawrie had started a detox programme and looked "much better" as a result.
He continued: "He simply has no recollection of either of these incidents.
"He was not arrested on either occasion."
Mr Caird asked Sheriff Lorna Drummond to allow Lawrie to continue on the detox programme "to keep him under tight control".
The sheriff deferred sentence until October 25 and told Lawrie: "The easy thing to do would be to send you to jail but I want to give you an opportunity to get out of this mess and turn your life around."
She told him to be of good behaviour and to engage with Tayside Substance Misuse Service.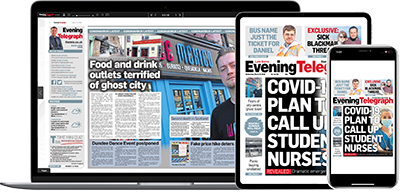 Help support quality local journalism … become a digital subscriber to the Evening Telegraph
For as little as £5.99 a month you can access all of our content, including Premium articles.
Subscribe