Dundee's casualty rate dropped from 164 to 132 between 2017-18 and 2016-17.
However, the number of driving offences recorded by police in the city increased from 5,384 to 5,434, with a slight decrease in the detection rate – the number of people caught or reported for the offences.
Police also caught 44 people not wearing their seatbelt compared with 70 the previous year, while 55 were reported for using their mobile, compared to 150 the previous 12 months.
A slight drop was reported for dangerous driving offences in Dundee, from 94 to 91, and more speeding crimes were recorded – jumping from 873 to 990.
Fewer offences for drivers neglecting traffic directions were recorded with 163 for 2017-18 as opposed to 168 the previous year.
Councillor Brian Gordon believes "people power" can make a major difference in the city.
He said: "We can never be complacent when it comes to road safety in Dundee and Tayside.
"The drop in the number of casualties is encouraging so we have to keep up the standards.
"I think a lot of the success comes down to communities coming together to raise concerns about issues in their area.
"We've seen that with the residents in Emmock Woods who campaigned and although it was a very short campaign, they're getting a different type of roundabout to reduce the speed.
"So I would certainly encourage people to come together and identify where these problems are because people power can make a difference.
"It's positive to see reductions in certain areas but we still have a lot of work to do."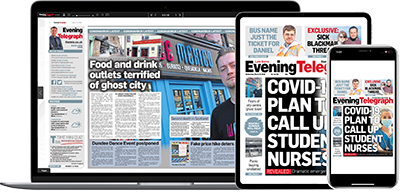 Help support quality local journalism … become a digital subscriber to the Evening Telegraph
For as little as £5.99 a month you can access all of our content, including Premium articles.
Subscribe