A city centre car park is being partially closed after they were left without lights for months.
Floors four, five and six of West Bell Street car park have been left without working lighting since the summer while council bosses try to find money to repair them.
And today, Dundee City Council announced the floors would be closed to the public until the issue has been resolved.
A council spokesman told the Tele: "Following a number of concerns that have been raised to the council about lighting problems on floors 4, 5 and 6 of the West Bell Street multi-storey car park, we have taken the decision to shut these floors until a solution is put in place.
"Parking will only be available on the first three floors of the car park from 7am on Wednesday November 15 2017.
"Car parking is also available at the Olympia, Gellatly Street and Greenmarket multi-storey car parks.
"Dundee City Council would like to apologise for this situation and will advise car park users of developments as soon as possible."
The council will also inform car park season ticket holders holders about the partial closure.
One local office worker sent a video to the Tele showing the car park in pitch darkness, illuminated only by the lights of her car.
She said: "I park regularly in the Bell Street multi-storey and noticed a few months back that the lights on the fourth floor were off completely.
"I assumed it would be fixed but recently I've had to park up on the fourth floor again and they are still off.
"It is daunting for me to be walking alone to get to my car at night.
"It seems like a pretty clear health and safety issue not to have any lights at all for months on that floor when the other floors fill up by 10.30am most days."
Signs had been put up encouraging drivers to avoid parking in the central area of the fourth level, given the lack of lights.
When the woman contacted Dundee City Council by email, she was told the problem would be fixed — but no timescale was given.
The council's reply said: "I can confirm that funding is currently being sought in order to resolve the lighting issue. However, I am unable to put a timescale on when the problem will be resolved.
"In the meantime, in order to ease your concerns, I would recommend phoning the security guard prior to entering the car park. The security guard will gladly meet you and assist you to your vehicle."
A council spokesman said: "We are aware that there is an ongoing problem with the lighting on floor four of the West Bell Street multi-storey car park and we are urgently seeking a resolution to the issues. We would like to apologise for this situation."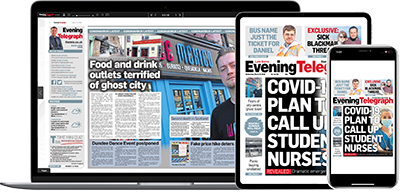 Help support quality local journalism … become a digital subscriber to the Evening Telegraph
For as little as £5.99 a month you can access all of our content, including Premium articles.
Subscribe