A family have thanked two Good Samaritans after they helped a man get to his brother in his hour of need.
Iain Telfer, 26, suffered a severe asthma attack on Saturday night after going home early from a family party.
He had been having a fun-filled evening with brother Sean, mum Eileen and dad Gordon before feeling unwell and catching the last bus home.
It was once back at his own house that Iain suffered the attack and Sean started to make his way on foot to his brother's home a couple of miles away.
Mum Eileen said: "Iain got in touch later to say that he was becoming more and more unwell with an asthma attack.
"He got to the stage where he couldn't even speak and he knew he would need to get help and go to hospital.
"He was so bad that he couldn't even phone the ambulance for himself and we did it for him.
"We were desperate to get to him but because we had all had a drink none of us could drive to his house."
Given their remote location and the time it would take for a taxi to arrive, Sean, 30, decided the only thing for it was to walk to his brother.
As he was heading for Blairgowrie, Saira Saleem and her friend May Pan drove past and saw him walking along the road.
They stopped and picked Sean up and dropped him off at his brother's home, enabling him to accompany Iain to hospital.
Saira, 40, said: "We saw this guy walking along the road in the dark.
"It was 2am and we were a bit concerned so decided to stop and see if he needed help.
"I'm so glad that we did and that we made it to his brother's house before the ambulance left for the hospital."
Eileen, 61, has expressed her thanks to the women after tracking them down on social media and getting in touch.
She said: "They seem pretty quiet and don't want any fuss but I want them to know how grateful we are to them for what they did.
"They took a chance and picked up a strange man in the middle of the night but they got him to his brother in time to go to hospital with him.
"You hear so many stories about people not being prepared to help others but these two girls did and I can't thank them enough.
"Thanks to the girls, Sean made it time to go with Iain in the ambulance."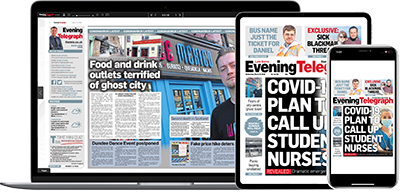 Help support quality local journalism … become a digital subscriber to the Evening Telegraph
For as little as £5.99 a month you can access all of our content, including Premium articles.
Subscribe