A driver has been reported after a Honda vehicle reached 145mph on a local road.
Police reported a motorist to the Procurator Fiscal after a car was seen driving at double the speed limit on the A92.
Officers observed the silver vehicle at around 10.50pm on Friday September 7, between the Redhouse and Bankhead roundabouts in Glenrothes.
Officers stopped the vehicle and a 24 year old man has been reported for dangerous driving.
This follows another driver being reported, after the Safety Camera Unit detected a red Volkswagen driving at 141mph on Sunday September 2 near Cowdenbeath.
Inspector Andy Mather of Fife Road Policing Unit said: "Speed limits are in place to assist in making our roads safer.
"Driving at speeds which are grossly in excess of the maximum speed limit is simply dangerous. Drivers are not only putting their own lives at risk but increasing the risk to their passengers and other road users.
"This manner of driving will not be tolerated on the roads in Fife. Officers will continue to carry out both marked and unmarked patrols alongside the Safety Camera Unit to ensure that our roads remain safe for everyone."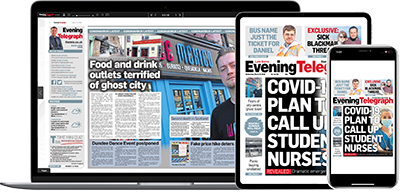 Help support quality local journalism … become a digital subscriber to the Evening Telegraph
For as little as £5.99 a month you can access all of our content, including Premium articles.
Subscribe