A Tayside wrestler says she's realised a dream after wowing fans in Japan.
Sammii Jayne — real name Samantha Hunter — recently returned from a two-week tour where she squared off against some of the best grapplers in the world.
The 27-year-old got her first taste of the ring with Dundee's Scottish Wrestling Entertainment (SWE) before receiving tutelage at the Source Wrestling school in Glasgow from Damian O'Connor — now competing for the WWE as Killian Dain.
Samantha, from St Madoes, Perthshire, has been making waves on the UK wrestling scene and even received a WWE tryout in November 2016.
She was invited to work with Tokyo-based Sendai Girls' Pro Wrestling, founded by Meiko Satamura, considered by some to be the best female wrestler in the world.
And her stint in Japan was such a success that she's poised for a return early next year.
Samantha said: "I was over there for a few weeks and it was absolutely amazing.
"It was my first time there. I barely slept, but I got the chance to wrestle in the Korakuen Hall which was a dream come true.
"It's such a historic building in Japanese wrestling and everyone in that country wants to wrestle there.
"I got to wrestle in four different cities and getting the chance to wrestle Meiko Satamura was incredible.
"A lot of people consider her to be the best female wrestler out there and they're talking about maybe having me back early next year.
"It's a completely different scene altogether. It's much more serious and it's a full-time job for a lot of these girls and it's definitely a lot more hard-hitting which isn't necessarily a bad thing."
Samantha, who currently holds championships for several companies, followed in the footsteps of friends and opponents Kimberly "Viper" Benson and Kay Lee Ray who also flew the Saltire in the Far East.
Her love affair with wrestling began almost 20 years ago while watching WWE star Lita on TV.
And Samantha says she's received nothing but support for her wrestling exploits from her family — despite the fact they've never seen her compete live.
She added: "Everyone knew I was right into wrestling when I was growing up so I think it was expected that I would end up doing it.
"I've been wrestling for seven years. Scottish wrestling has changed so much and is getting better and better.''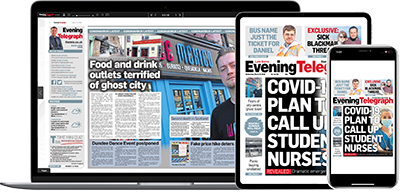 Help support quality local journalism … become a digital subscriber to the Evening Telegraph
For as little as £5.99 a month you can access all of our content, including Premium articles.
Subscribe