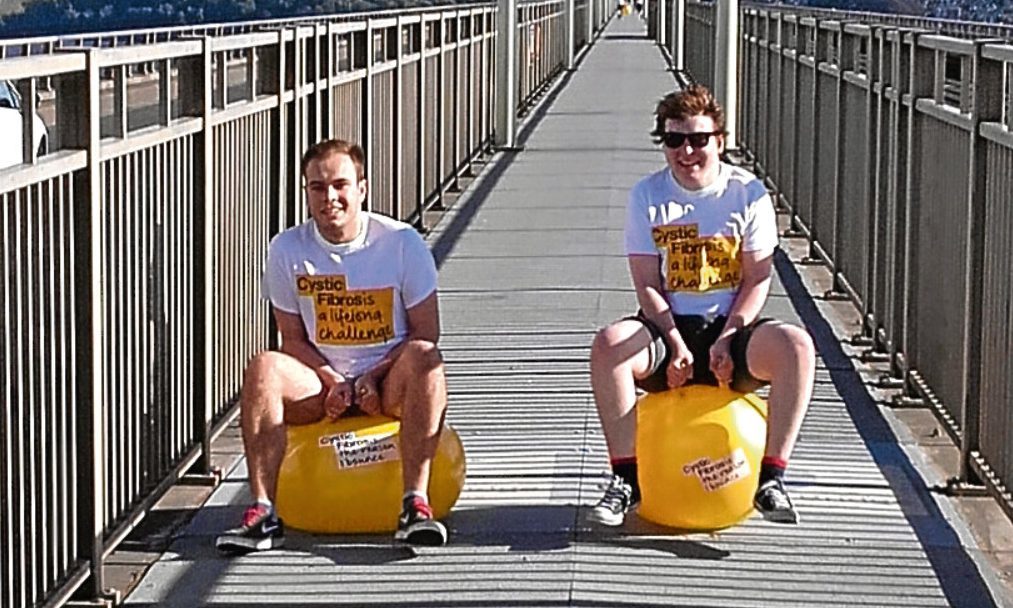 Onlookers must have thought they were hopping mad when they saw 32 people bouncing across the Tay Road Bridge.
The group took to the bridge on spacehoppers in a effort to raise funds for the Cystic Fibrosis Trust.
The event gathered £4,000 for the cause.
Greg Beckett, from the Law area, is one of the almost 11,000 people in the UK who suffer from the hereditary genetic condition.
The ailment is characterised by the lungs and digestive system becoming clogged with thick, sticky mucus.
Experts say that an estimated one in every 2,500 babies is born with the ailment.
The 20-year-old today told the Tele that the money will be a boost for people living with cystic fibrosis, providing much needed physiotherapy and also funding research into the condition.
He said: "My back and my legs are killing me — it was hard work but it was a good laugh.
"It took me an hour and a bit to get across the bridge. I was right at the back of the pack.
"I wanted to do it the whole way. I didn't want to bounce some and walk some."
Greg said that he suffered a setback midway through the sponsored bounce, when his spacehopper exploded on him.
He added: "I had to take turns with a friend but then that one burst too so we had to get new ones.
"It was really good though. It was a nice day which made it even more enjoyable.
"I am paying for it now though, I couldn't even get out of my bed the next day."
Greg's mum Morag, 56, who is the also Cystic Fibrosis Trust Tayside branch chairwoman, said: "We set off at 2pm on Sunday from the Fife side of the bridge and the faster ones made it to the other side in around an hour.
"It was a lot harder than people thought it was going to be.
"The weather made it a really great day.
"We have raised £4,000 so far and Greg's page is still live so there are more donations coming in. It was a huge success. There was friends and family, there was also staff from the respiratory ward at Ninewells who look after the patients with Cystic Fibrosis which was brilliant.
"There was a physiotherapist and two parents whose wee boy has cystic fibrosis. It was a real mix of people and everyone had a great laugh for a great cause."
Greg added: "I just want to thank everyone who donated and everyone who came out and did it. We raised a lot of money which will go a long way to help people with Cystic Fibrosis."
Morag said that they are considering making the spacehopper run an annual event.