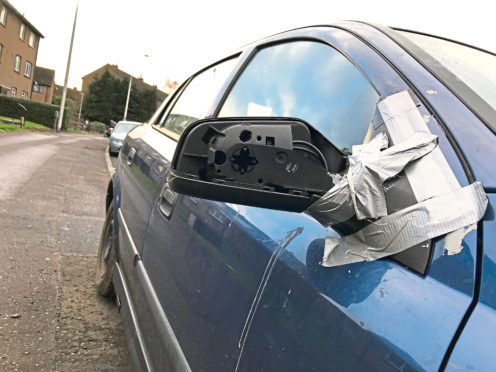 Police are probing a series of tyre slashings by a knife-wielding thug on a Dundee estate.
The thoughtless vandal caused hundreds of pounds' worth of damage to several cars on Balerno Street area of Douglas.
One resident said he was woken up by the sounds of a group of about 10 people walking along Balerno Street at 3am on Sunday.
He said: "We heard them at about 3am, quite loud, mostly guys and a few girls. One of them was kind of dancing around one of the cars.
"His friends were kind of saying: 'Don't do it, don't do it'. We didn't realise what he was doing until he turned around and we saw what looked like a knife."
Another man said he had a tyre slashed at the weekend and a wing mirror kicked off the week before, which he repaired with gaffer tape.
He said: "The tyre worker said it must have been a fairly substantial blade for the size of hole it left.
"It cost me £55 for a new tyre and I've only got a pension that doesn't go that far. I can't be buying a new tyre every week. I'm fed up."
A police spokesman said: "We are investigating a number of vandalisms to cars in the Balerno Street area of Douglas, which happened overnight from Saturday into Sunday.
"In Balerno Street, a white Citroen Berlingo had its windscreen smashed and a white Renault Clio had tyres cut and damaged.
"In Balerno Place, a blue Renault Clio had tyres cut and in Ballindean Road a blue Rover 75 also had tyres damaged.
"At least one other car is known to have been damaged and inquiries are ongoing to trace the owner.
"Officers would like to trace a male youth in his late teens who was wearing a grey hooded top under a black gilet and black joggers, who was seen near one of the damaged cars about 3am on Sunday morning."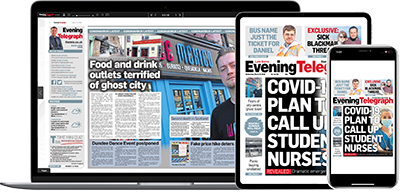 Help support quality local journalism … become a digital subscriber to the Evening Telegraph
Subscribe