A sadistic murderer is on the run from jail after absconding from an open prison for the second time.
Martin Stewart, 38, was caged for life in 1998 for the horrific torture murder of David McMaster, 49, in Paisley.
In 2012 – 14 years into his life sentence – he was deemed suitable to be moved to HMP Castle Huntly in preparation for his eventual release.
He eventually went AWOL and had another six months added to his sentence.
Now Stewart has pulled the same trick again and failed to return from home leave.
Police said Stewart had been missing since May 9 when he was due to return to Castle Huntly open jail, by Longforgan, Perthshire.
A spokesman for Police Scotland's Tayside Division said: "Police Scotland is appealing for information regarding the whereabouts of Martin Stewart, 38 years old, who breached the terms of his licence whilst on home leave from HMP Castle Huntly, by Dundee.
"He has been missing since 9 May 2018.
"It is believed he has connections in the Paisley area.
If seen, members of the public should not approach him and should contact Police Scotland on 101.
"Anyone wishing to provide information anonymously can do so through the charity Crimestoppers on 0800 555 111."
Stewart's original crime was sparked by a simple request by Mr McMaster to turn a TV off.
Stewart – who was high on a cocktail of strong cider, vodka, super-lager and the fumes from lighter fuel and deodorant sprays – launched a brutal attack with two accomplices.
Mr McMaster was viciously punched, kicked, stabbed and slashed.
Boiling water was poured over him and his moustache was set alight.
His rib cage was crushed and his skull was fractured.
The three thugs even tried to sever Mr McMaster's head with a pair of garden shears and a breadknife.
Then they stuffed his clothes with newspaper and set fire to his body.
Stewart was convicted of murder at the High Court in Glasgow in 1998 and sentenced to life in jail.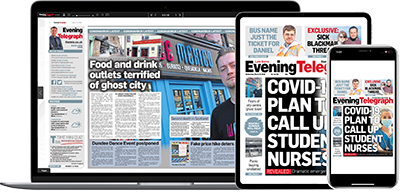 Help support quality local journalism … become a digital subscriber to the Evening Telegraph
Subscribe