Birthday girl Sandra McIntosh had an unusual visitor on her special day in the shape of Donkey Bond, a miniature donkey.
Sandra, from Downfield, turned 50 and was delighted by the visit from the cute donkey who lives with owner Alison Wiseman at Balnuith Farm, Tealing.
The surprise was arranged by Sandra's fiance Scott Findlay and their friend Nicky Millen.
Shocked Sandra said: "You don't expect to open your door and a donkey to be there, do you?
"Maybe flowers or chocolates but I would never have imagined Donkey Bond would be there.
"He was so cute. I had always planned to go to the farm to see him but never got round to it so it was amazing that he came to me.
"People driving past must have thought I was mad having a donkey in my garden. It was just fantastic – I couldn't have wished for anything more for my birthday.
"We also went out for dinner and visited friends to celebrate but Donkey Bond was an extra special surprise."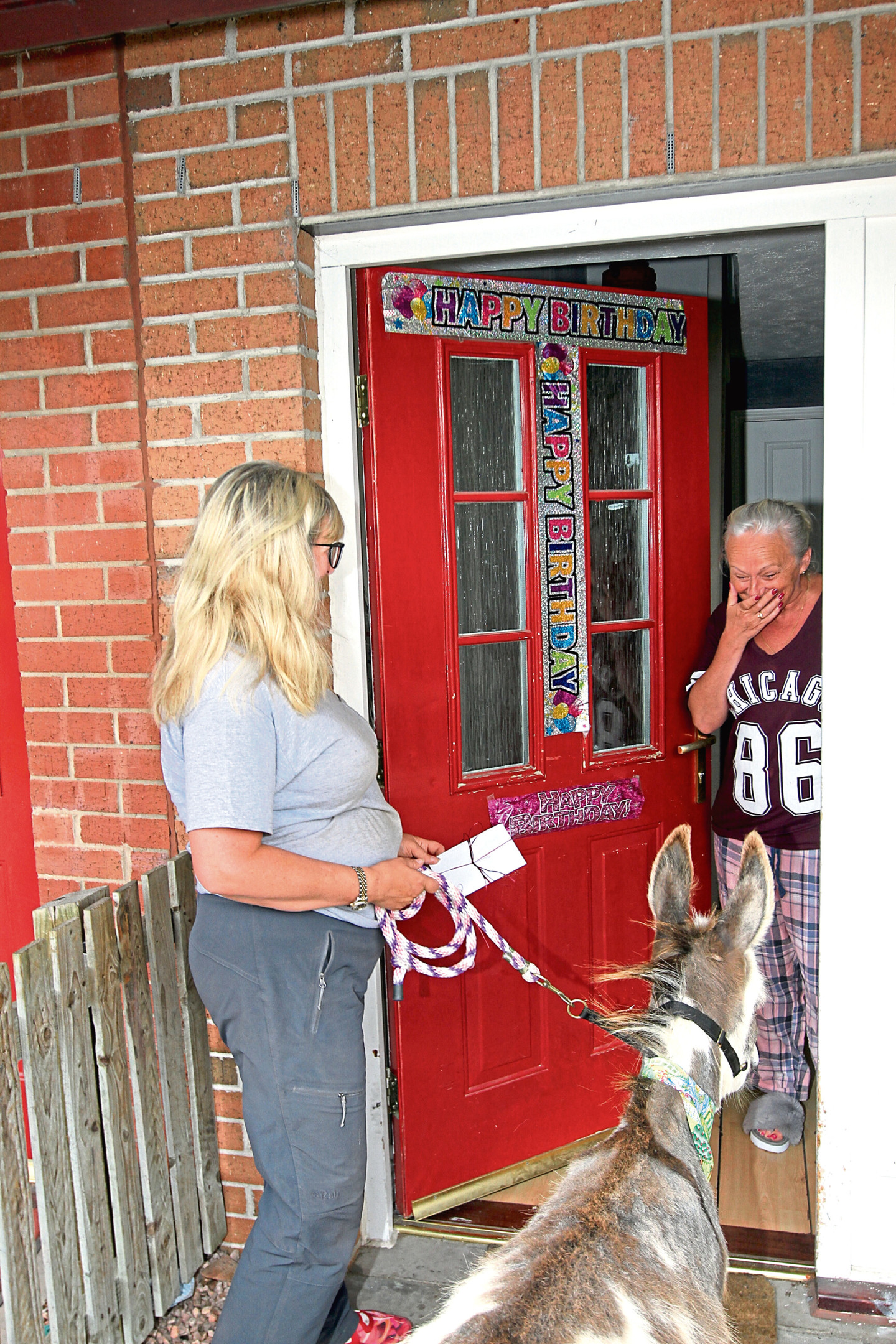 Scott said he knew he had to do something special to mark the occasion.
"I have been with Sandra for about two and a half years and I was stuck about what to get her for her 50th birthday," he said.
"I was really struggling because she couldn't tell me anything she wanted and I knew I needed to do something big and a bit different.
"My friend's aunt owns the farm and when we found out there was a donkey being hand-reared in their house because his mother had disowned him, we just thought it was amazing and he was so cute.
"Donkey Bond – who is named in honour of James Bond actor Sean Connery – has his own Facebook page and I thought, 'I wonder if they would bring him to surprise Sandra?'.
"We both absolutely love animals anyway and had been following all his social media posts so I knew Sandra would love it.
"It was also the first time that Donkey Bond had ever come out for a birthday surprise like this and he was absolutely fantastic."
Scott added: "Sandra is still speaking about it now and I think she will be for the next 10 years.
"It really is something for her to remember and I am really glad she liked it.
"I also got her a voucher to go up to the farm and walk the alpacas which will be fabulous.
"It is even better because I wanted to do it as well so I will able to go along with her."
Nicky said: "Sandra's reaction when she opened the door was amazing – absolutely brilliant.
"Scott got in contact with me because he wanted to do something different for her birthday and he knew my aunt owns Balnuith Farm.
"He is a very cute donkey – he lives in the farmhouse kitchen and is toilet-trained like a dog.
"There is no chance that Sandra will forget her 50th."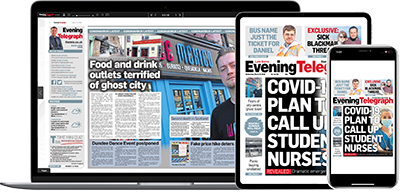 Help support quality local journalism … become a digital subscriber to the Evening Telegraph
Subscribe