Donations from as far afield as the United States have flooded in to help rebuild a Dundonian man's allotment after it was destroyed by fire.
The shed was reported to be "well alight" at the Law allotments on Bonfire Night – with firefighters taking more than an hour to bring the blaze under control.
Johnny Morrison, the owner of the plot, was said to have been devastated after his patch was burned to the ground.
He has tended to it for more than 30 years.
Now, Frances Brown and her dad John have set up a GoFundMe page to help rebuild it.
Frances, 34, said John had befriended Johnny several years ago while out walking his dog, Skya.
She said: "We're looking to raise £1,000 to help rebuild the plot.
"My dad's known Johnny for six years. He was always chatting to him over the fence.
"Johnny has always been so generous – he was always giving loads of vegetables away in the summer.
"When dad last saw Johnny, he was visibly upset and had indicated that might be it for him up at the plot."
The GoFundMe page was set up on November 20 and has already raised about £500.
Frances said: "The response has been incredible so far – we've had donations from as far afield as the United States.
"The donation, from Washington State, was for £200 which I'm delighted about."
Frances said her brother James will also be offering his time and his team to help rebuild the plot.
She added: "James runs Great Tay Construction and he has offered to help. If there are any merchants out there who could donate materials, it would be greatly appreciated.
"This has been such a big part of Johnny's life. He's been so generous to many strangers in handing out his vegetables.
"We wanted him to have a merry Christmas in the knowledge that he'll be set up again in the spring and able to enjoy many more years at the allotment."
To make a donation, visit gofundme.com/LawAllotment.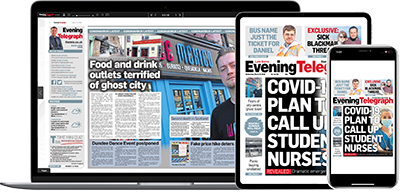 Help support quality local journalism … become a digital subscriber to the Evening Telegraph
For as little as £5.99 a month you can access all of our content, including Premium articles.
Subscribe