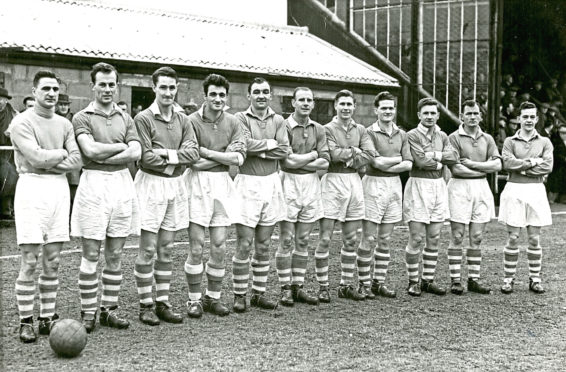 Further to the recent articles referring to Jim Henry and Dennis Elder's Black Trophy memories, a well-known local goalkeeper has come in with precise information on another victory in the same cup.
Sandy 'Sy' Thomson was the St Joseph's Youth Club goalkeeper at the end of the 1960s.
He said: "I can provide details of the 1969-70 Black Trophy campaign, which the Angus Amateur U/18 Select team, of which we were both members, won.
"We got a bye in the first round and played the holders Lanarkshire at home in the second round at Thomson Park on Saturday, February 28, 1970.
"The Angus team was: Sandy Thomson (St Joseph's); Ian McDonald (St Francis, capt), Alan Sutherland (Lochee BC); John Connelly (St Francis), Peter Castle (Lochee BC), John Brown (Lochee BC); Brian Cooper (Arbroath Lads Club), Kenny Payne (St Columba), Billy Boyle (St Columba), Derek Johnstone (St Francis), John Ogilvie (St Columba). Substitute was Frankie Campbell (St Francis).
"Angus won 9-0, with the half-time score being 5-0.
"Scorers were Kenny Payne (4), Derek Johnstone (2), John Ogilvie (2) and Billy Boyle.
"We then played Ayrshire in the semi-final at Claypotts Park, now called Whitton Park, on Saturday, April 4, 1970, with the exact same team, winning 6-4 (half- time 3-1)."
"Scorers were Derek Johnstone (2), John Ogilvie (2), Brian Cooper and Billy Boyle.
The final was played at the NCR Grounds in Dundee, as Sy continued: "The final was on Saturday, May 16, 1970, against Glasgow YM.
"The only change to the Angus team was Billy Smith (St Columba) coming in for yourself as you were on some jolly somewhere!
"Angus triumphed 3-1 (half-time 1-1) thanks to goals from Derek Johnstone, Billy Boyle and Billy Smith.
"Other players in the Angus pool were Dave Gollan (St Francis), Peter Phin (St Columba United), Billy Christison (Lochee BC), Rory Malone (St Columba) and Dave Boyack (St Columba).
"The outstanding player for the Angus select was Derek Johnstone, who, despite it being an U/18 competition, was 16 at the time.
"Just five months later, he would score the winning goal for Rangers in the League Cup Final against Celtic.
"I attach a photo of the trophy/medaI received for being a member of the winning team."
n Reader Jim Miller wants to clarify our December piece about former Dundee United and Forfar player Kenny Dick and the Boys Brigade.
He offered: "Kenny was a life-long member of the 26th Coy (Gilfillan Church), where his father, the redoubtable Edward J Dick JP was the captain. He joined with me in September 1953."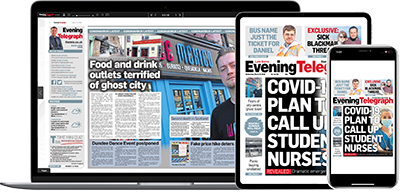 Help support quality local journalism … become a digital subscriber to the Evening Telegraph
Subscribe