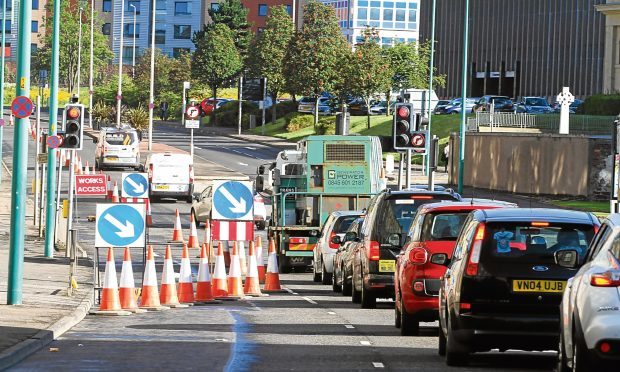 Motorists using a busy city centre route are facing weeks of disruption after major roadworks got under way yesterday.
West Marketgait, close to Ward Road, and North Marketgait at Bell Street car park, are down to one lane for gas mains work by SGN.
Lanes on the northbound and westbound carriageways will be closed for the next four weeks.
The "essential" £70,000 project involves the replacement of old metal gas mains with plastic piping.
Bill Newcombe, chairman of City Centre and Harbour Community Council, said he hoped the work would be completed within the four-week timeframe.
He said: "Any closure is likely to cause some form of hold-up.
"I'm sure everyone understands the work needs to be done and carried out correctly.
"The only thing I'm sure all commuters and businesses in that area will be hoping for is that SGN will be able to carry out the works within the allocated timeframe."
Businesses in the area said there were some concerns that the closure could have an adverse effect on trade.
Steven Grant, branch manager at Collinson Ceramics at the foot of the Hawkhill, said previously: "I would think this could affect our business.
"Road closures around here will make it difficult for our customers to get to us and could affect people's ability to park."
Some bus routes will also be impacted by the work.
A spokeswoman for SGN said: "We are starting work to upgrade the gas network in West Marketgait.
"We'll be working on a 400-metre stretch of the carriageway between Guthrie Street up to the roundabout with North Marketgait.
"This is essential work worth £70,000 which involves the replacement of old metal gas mains with new plastic pipe to ensure a continued safe and reliable gas supply. Due to the location of the pipe in the ground, and to ensure everyone's safety, we will need to put in place a northbound lane closure for the duration of the project.
"We're not anticipating that the work will impact on any businesses in the city. However there is a chance there may been some disruption to traffic in the local area.
"We understand that people can get frustrated by roadworks. However, the new plastic pipe has a minimum lifespan of 80 years.
"This means that when the work is complete, Dundee homes and businesses will continue to enjoy the benefits of a safe and reliable gas supply for years to come."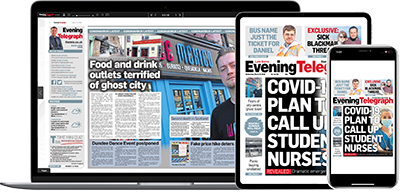 Help support quality local journalism … become a digital subscriber to the Evening Telegraph
Subscribe