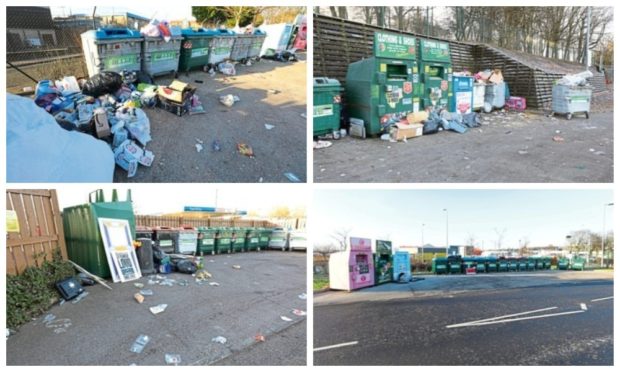 Supermarket recycling bins were left overflowing after a deluge of festive dumping.
The car park of Tesco Extra at Kingsway West Retail Park appeared to turn into an unofficial tip with countless empty boxes and packages left scattered.
Images obtained by the Tele also show that Asda Milton of Craigie, Asda Myrekirk and Tesco South Road also proved to be hotspots for people desperate to get rid of rubbish. Refuse also spilled out from bottle and paper banks as Dundonians cleared out their Christmas waste.
Regular bin collections have been altered over the festive period while recycling centres at Riverside and Baldovie only re-opened today after new year.
One woman, who did not wish to be named, said she scrapped her plans to recycle items at the Tesco Extra store after seeing the mess.
She said: "I had a few boxes left over from Christmas so I thought I would go down while I was out getting shopping.
"But there was just so much rubbish piled up that you could barely get near it."
Stella Carrington, chairwoman of Charleston Tenants' and Residents' Association, branded the mess at her local Tesco on South Road "an absolute disgrace".
She said: "I noticed it was bad when I went down to Tesco the other day.
"It's not just in the supermarket, it's spilling out on to South Road itself which is bad enough with all the Eurobins overflowing with rubbish. It's an absolute disgrace. I can honestly say I've never seen the streets as bad in this area.
"There really should be a contingency plan for what happens over that period."
Ferry councillor Kevin Cordell said: "I am advised the council does service this site and it has now been cleared. Unfortunately these sites can attract a lot of indiscriminate dumping, particularly at this time of year.
"Whilst I would always encourage and commend people using sites responsibly and looking to recycle I would remind folk that the council has many site options for the recycling of cardboard, paper and glass, and if a facility is full then they can use any of those alternatives."
Asda and Tesco were approached for comment but we had received no response at the time of going to press.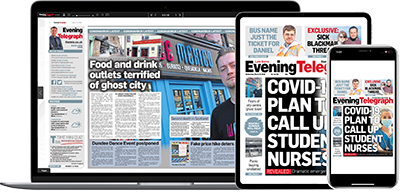 Help support quality local journalism … become a digital subscriber to the Evening Telegraph
For as little as £5.99 a month you can access all of our content, including Premium articles.
Subscribe