Disgruntled residents of City Quay have called on the council to put its foot down and clean up the area.
The City Centre and Harbour Community Council quizzed neighbourhood services convener Kevin Cordell and environment area manager Jim Wilson about the state of the area at a meeting this week.
Locals fear that unsightly mess, overgrowth and dog fouling at City Quay would leave tourists who visit the area in future with a bad impression of the city.
Bill Newcombe, chairman of the community council, is concerned that private landowners are not doing enough to maintain the upkeep of their areas.
He said: "We've been asking to get a clean-up for quite a number of months, we've pressured councillors, and we're not getting anywhere.
"In my view there is only one body that can put pressure on those who own parts of the area and that is the council.
"We don't want to be ashamed of what people see when they come to Dundee."
Councillor Cordell conceded that the group's request was "not unreasonable" – and suggested the group organises a walkabout with council officers to identify key concerns.
Mr Wilson said some of the privately owned land was caught up in a legal wrangle which the council was at the mercy of until it was resolved.
Some strips of land at the southern border of Victoria Dock are owned by a company that is in administration – meaning no maintenance is being done.
Mr Wilson said: "The company is in administration and the council is trying to buy the land, but we need a court order so we aren't diddling the creditors. That's the bottom line."
Community council secretary Sheena Wellington said she feared the City Quay would be left behind amid Dundee's regeneration – despite the fact it forms part of the Waterfront.
She said: "We're part of the Waterfront – so having the place looking like the corporation cowp is not ideal."
Other concerns shared by the group with the city council include a lack of water-facing seating and a need for more dog waste bins, especially towards the end of the quay area.
Mr Wilson said those, and ideas such as solar-powered smart bins, could "certainly" be considered.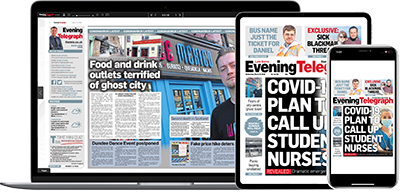 Help support quality local journalism … become a digital subscriber to the Evening Telegraph
For as little as £5.99 a month you can access all of our content, including Premium articles.
Subscribe