A group of disgruntled residents have set up a new organisation with the aim of buying disused tennis courts.
The Craigie Community Residents' Group (CCRG) has been created to oppose plans to sell off the former tennis courts on Dalkeith Road.
The land has been acquired by Craigie Community Sports Hub (CCSH), which wants to sell the site in order to help fund new tennis facilities at Baxter Park.
But a spokesman for the residents' group said the land was being sold in "haste" by the sports hub, claiming residents' views had been ignored.
Now the CCRG – formed by people from Dalkeith Road and the surrounding area – is asking for the postponement of next week's planned sale of the courts.
The spokesman said the sports hub's consultation had been "a farce".
He added: "Only a limited number of locals were contacted – those directly adjacent to the ground.
"Only 10 days were allowed for residents to offer views on how the land could be used for sporting and leisure purposes.
"Those views were dismissed by CCSH and the land was put up for sale within a matter of days.
"We have contacted selling agent Shepherd Commercial regarding a postponement of the sale.
"It would be our intention to table a bid ourselves but we need more time.
"It would at least give us more control over what could be built there.
"The undue haste with which this process has developed is quite astonishing.
"There are a lot of very angry residents in this area.
"We will continue to make our views known until there is a satisfactory conclusion to this sorry affair."
The future of the historic courts has been contested for a number of months.
It was reported previously that the courts have fallen into a state of disrepair over the last two years.
A spokesman for Craigie Community Sports Hub declined to comment.
Residents group members, clockwise from left, Steven Hume with baby Olivia, Jennifer Wilson, Dave Bell, Bryan Key and Helen Clarke.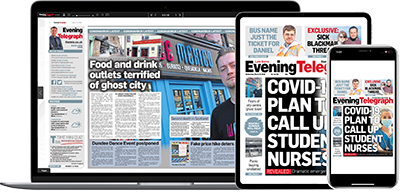 Help support quality local journalism … become a digital subscriber to the Evening Telegraph
Subscribe