A shopkeeper has said 30 years of business could have gone up in smoke after a blaze broke out behind his premises.
Firefighters were called to Dura Street after a settee and a mattress caught fire directly behind Forte's Cafe, Room 39 and the Hillcrest Housing Association flats above.
The fire damaged the sewage pipe — leaving the contents of the broken pipe pouring on to the ground — and caused smoke damage to the shop spaces.
Jim Sturrock of Forte's Cafe said the damage could have been a lot worse.
He said: "Because the fire was so close to the buildings there was a chance the whole place could have gone up.
"If the fire had been left any longer it could have got in to the premises and destroyed 30 years of family business — putting people's lives in danger in the flats above.
"I can't speak highly enough of the fire service. They dealt with the problem very quickly and made sure no further damage was done.
"The folk running the shops were up all night cleaning up the smoke damage.
"But the stuff that caused the fire shouldn't have been there in the first place."
Both Jim and his daughter Wendy Sturrock, who owns the neighbouring boutique Room 39, said they had heard the fire was caused by a cigarette.
But the fire would never have started if the discarded furniture had already been moved, said Wendy.
She said: "The mattress and the settee which were on fire had been there since the end of October.
"I contacted Hillcrest on October 25 to ask for the items to be removed and nearly a month later the stuff has caused a fire.
"I got a phone call on Monday night to say that the fire service was outside the shop.
"When I came down, the firefighters said they needed to enter the building to make sure the fire hadn't spread inside.
"The sewage pipe is still broken — given what's flowing from it that needs to be fixed as soon as possible."
A Hillcrest spokesman said: "On Tuesday morning we received a report of a fire at Dura Street and members of our housing team attended the site to assess the damage and begin to action the repairs process.
"This matter is currently under investigation."
A spokeswoman for the Scottish Fire and Rescue Service confirmed a crew had attended.
She added: "Firefighters wearing breathing apparatus put out the fire and left the scene at 9.04pm.
"We would urge people not to leave rubbish or other items on the street.
"Discarded items of furniture and rubbish can produce large amounts of toxic smoke and also impede access for emergency responders."
Maryfield councillor Lynne Short said: "It is important that any refuse outside premises is disposed of in the proper way."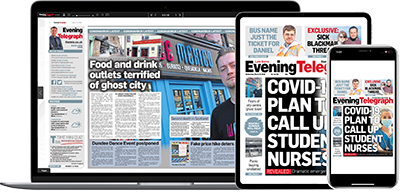 Help support quality local journalism … become a digital subscriber to the Evening Telegraph
Subscribe