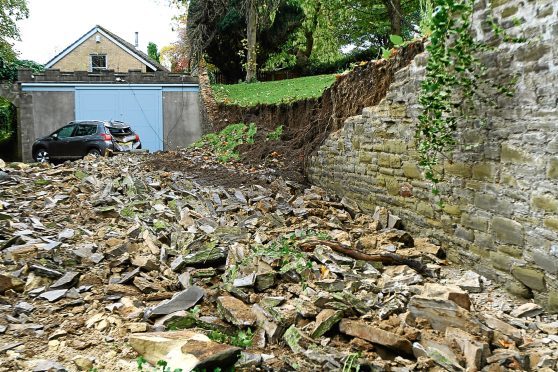 A Broughty Ferry mother and her daughter narrowly missed being crushed as a 12ft wall collapsed.
A 60ft section of wall came crashing down moments after Karen Arensbach and her three-year-old daughter Helena had driven past.
Dundee City Council is responsible for maintaining the wall and the grass above it, although the surrounding properties and land are privately owned.
It is understood the council had twice before put sensors on the wall dividing properties on Ellieslea Road and Dundee Road, but they had been removed after they showed no signs of movement in the ground.
However, the wall finally collapsed at 8am yesterday, with tonnes of rubble tumbling down. The force of the large stones crushed a parked car and shunted it into a garage door.
Mrs Arensbach, 43, had driven past the wall just before it came down.
She said: "I took my husband to the train station at around 7.30am, came back and took my daughter to nursery and came back.
"About five minutes later, one of my neighbours said the wall had fallen down."
Mrs Arensbach said the wall had been bulging for months, but the council had not taken any action to address the issue, despite warnings from residents.
She said: "We have to take our wheelie bins down the path and we've all said to do it on the other side of the road.
"It wouldn't have mattered where you were though. If I had come back a couple of minutes later, it wouldn't have mattered if I was in car — I would have been flattened."
Neighbour Brian Cairns, 70, said: "That's been a disaster waiting to happen. The wall has had a bulge for a long time. It's always been on our minds."
Mr Cairns said trees had recently been removed from the land behind the wall.
Another resident, Chris Hampton, who runs Hampton Preservation and Maintenance Services, said he had warned the council about the wall.
He said: "The wall was about 12ft and had been buckling.
"They removed some trees and I said it could mean water would just run straight through to the wall."
The owner of the damaged car declined to comment.
A council spokesman said: "The area has been fenced off and we are clearing the rubble and looking at long-term options for the area."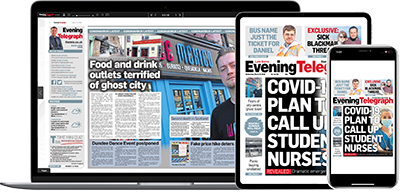 Help support quality local journalism … become a digital subscriber to the Evening Telegraph
For as little as £5.99 a month you can access all of our content, including Premium articles.
Subscribe