The number of people using Dundee Airport has dropped by more than 43% in the past year.
A spokesman for Highlands and Island Airports Limited (HIAL) blamed the loss of the Dundee to Amsterdam flight as the primary reason passenger numbers at the city's airport have fallen so dramatically.
In 2017/18, a total of 21,909 passengers moved through the airport, compared with 38,700 the previous year.
The loss of 16,791 passengers is a drop of 43.4% on the previous year.
HIAL managing director, Inglis Lyon, said: "Flybe's decision to withdraw the Dundee/Amsterdam service for now was always going to have an effect on the 2017 passenger figures and our airport manager, Derrick Lang, and the HIAL team are working hard with our various partners in the city to bring new routes and services to the airport.
"The scheduled September opening of the V&A will have a really positive effect on Dundee and the wider Tayside area, and that in itself will significantly boost our efforts to promote the airport and the area to the business and tourism market.
"Dundee remains an integral part of our airport network. Passenger numbers will always fluctuate at regional airports and, with the many positive developments going on in Dundee, we remain confident we will be able to attract new business there over the coming months."
However, CEO of Dundee and Angus Chamber of Commerce, Alison Henderson, said the figures were "very disappointing".
Ms Henderson said: "The main reason for the drop in passengers is the loss of the international flight to Amsterdam.
"We know from figures gathered that 60% of Scottish travellers using the airport were flying to Amsterdam.
"A core of people used the airport for this flight and it was hoped that this was something that was going to be built on.
"This was used by leisure and business travellers and it was hoped that Dundee Airport could have become a hub for travelling onwards. However, connecting tickets were not available from Dundee and this is something we would like to see.
"We now know from the use of this flight that there is a big demand for international flights out of Dundee, especially at the kind of prices the Amsterdam flights were offered at. This is something we would like to see being on offer again."
Flybe permanently grounded Dundee's direct air link to Amsterdam in January last year after just seven months, blaming the decision on the volume of light aircraft activity at the city airport and a lack of suitable radar coverage.
The decision was made despite the route proving popular when it was introduced in May 2016. Airport passenger figures throughout Scotland as a whole have grown by 7.4% in the past year.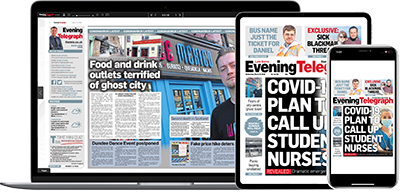 Help support quality local journalism … become a digital subscriber to the Evening Telegraph
Subscribe