Developers are pressing ahead with plans to build up to 50 new homes as part of a major regeneration programme.
Architects JTP and the Home Group have submitted proposals to Dundee City Council for phase four of new housing on Hebrides Drive in Mill o' Mains.
If approved, between 40 and 50 new properties will be built with an estimated completion date of July 2019.
Major transformation work has been taking place at Mill o' Mains in the last nine years, with the first three phases already completed.
A design statement from the company states: "Mill o' Mains, Phase 4, is located along a strip of land sandwiched between Forfar Road (A90) dual carriageway and Hebrides Drive, which forms a defined perimeter around the bulk of the estate.
"It is split into two distinct sites, A and B, by an existing petrol station compound and the ramped springing point of the pedestrian bridge link to the nearby Fintry estate. Both sites were previously developed for housing.
"Demolition of all three-storey apartment blocks took place in 2017 and the sites are now vacant and covered with grass."
Members of Mill o' Mains Tenants and Residents Association (MOMTRA) raised concerns with JTP about issues in the street at a meeting in April. The street was described by some residents as a "rat run" during rush hours.
A public consultation was held at the Community Lounge in Foula Terrace in August.
But a report submitted to the council claimed that members of the residents' group reacted positively to changes made to the original plans.
The design statement reads: "MOMTRA members raised issues with regard to Hebrides Drive.
"The road is currently being used as a rat run for cars travelling north towards Aberdeen, increasing the amount of traffic, particularly at rush hour. Suggestions were made to implement further speed-reducing measures along this stretch of Hebrides Drive to mitigate the problem.
"The introduction of two new raised tables and narrowing of the Hebrides Drive junction at the north-west of site A has been included in the proposals.
"Overall, the response was positive and group members have been in favour of the tabled design and the development in principle.
"The need for new homes on this site was universally uncontroversial and the public was broadly supportive of the designs of the individual house types.
"The consultation boards were left in the Community Lounge for a week following the event to give all residents the chance to review the proposals and make further comments."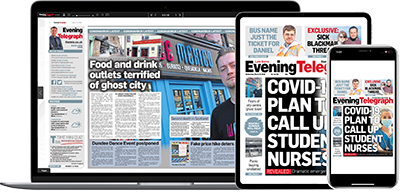 Help support quality local journalism … become a digital subscriber to the Evening Telegraph
For as little as £5.99 a month you can access all of our content, including Premium articles.
Subscribe