Developers working on a controversial project at Dundee Waterfront have revealed plans to add 11 extra flats to the building.
Architecture practice Cooper Cromar has submitted a fresh planning application to Dundee City Council regarding site six.
The firm is asking for permission to alter the layout of the residential blocks on the contentious site to create more living spaces.
The addition of the 11 flats would take the total to 99.
Detailed plans included with the application show that developers hope to add the extra dwellings by shrinking some apartments and growing others.
Luxury "duplex" flats, which are split across two floors, have been removed from the proposals and replaced with single-storey properties.
Colin Kennedy, of Cooper Cromar, said the plans had been changed in response to trends in the home market.
However, he stressed that the change would not affect the physical makeup of the building.
He said: "The proposal takes the total number of flats up to 99.
"The reason behind this is there were duplex flats that have been changed and removed.
"After we submitted the initial plan our client market tested the proposals and found revised market trends.
"There's no demand for duplex flats at present – so we have converted them into single-floor flats.
"There is no change to the massing of the building or to anything about the properties of the development."
The council gave approval to site six proposals last summer. The development will boast a 150-bedroom hotel, retail units and office space alongside the flats.
Construction firm Robertson began building work at site six earlier this year, with much of the steel structure that will form the complex's underpinnings now in place.
However, the site has been met with some resistance from locals due to the fact it is taller than the adjacent V&A Dundee museum across the road.
Dundee Civic Trust has been vehemently opposed to the development since its inception.
The site was also the subject of an online petition opposing the development, which attracted more than 5,000 signatures.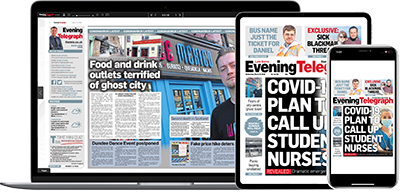 Help support quality local journalism … become a digital subscriber to the Evening Telegraph
For as little as £5.99 a month you can access all of our content, including Premium articles.
Subscribe