Dundee's drug commission has been told better support services hold the key to preventing so-called drug cocktail deaths.
Experts from NHS Scotland and the Scottish Drugs Forum told the panel, set up to tackle the city's rising drug deaths toll, that users need to stop being "punished".
Elinor Dickie, a public health adviser with NHS Health Scotland, said: "Most drug-related deaths are preventable – but we have to keep people in treatment.
"If people aren't getting services that they require that probably relates to how we're providing them. Dignity and respect of the individual is absolutely critical."
Kirsten Horsburgh, of the Scottish Drugs Forum, said those who access support services for drug use often face stigma and measures that appear "punitive".
She said: "If people aren't engaging with services it's not because they're hard to reach – it's because they're hard to engage with."
Members of the public who attended the meeting said wider issues, such as changes to prescriptions, were also playing their part in recent deaths.
One man, who gave his name as Scott, said many overdoses were linked to so-called "fake Valium", bought and taken by people out of desperation because their prescriptions had been stopped without them being consulted.
Valium – otherwise known as diazepam – was once used for heroin addiction but is now prescribed less often due to the risk of users developing a dependency.
It is now replaced with drugs such as gabapentin or pregabalin.
Scott told the meeting: "For years I was on diazepam and they took it away and put me on pregablin, which made me suicidal.
"I was on the edge of killing myself and now I'm having to go to all sorts of places I don't want to go to find it. People are getting lost and trying anything and over-dosing, taking all these cocktails."
Another man, who gave his name as John, said issues such as being made to wait outside chemists every morning also affected people's confidence.
Robert Peat, chairman of the commission, said lived-in experiences such as those of John and Scott were "very helpful" to the panel's work, adding: "We need to hear from people who are using these services."
The panel is set to start interviewing service users next month.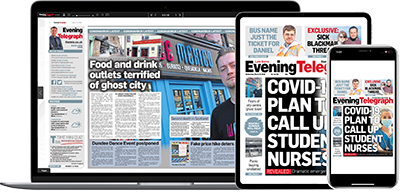 Help support quality local journalism … become a digital subscriber to the Evening Telegraph
Subscribe