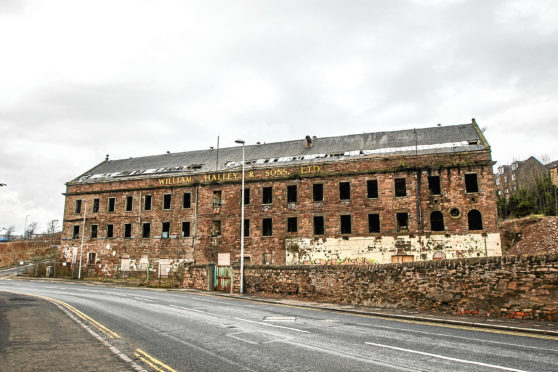 A crumbling Dundee jute mill could be knocked down to make way for housing — but only if its listed status is removed.
Talks are under way between Dundee City Council and the owner of the former William Halley & Sons mill in Broughty Ferry Road about plans for its future.
It was originally hoped the historic building could be restored, with plans to convert the mill into two blocks of flats.
But owner James Keiller Estates is now discussing the possibility of removing the listed status — meaning the mill could be knocked down rather than preserved. Planning permission was initially granted for a development in 2014, with work expected to take place the following year.
Applications to transform the mill date back to 2004.
But the building remains derelict and was dubbed an "eyesore" by a local councillor.
Security has also been stepped up in recent months over concerns about people entering the building.
Councillor Lynne Short, convener of city development, hopes the talks can lead to the building being transformed sooner rather than later.
She said: "At the moment, there's a memorandum of understanding between the council and the company for the works, but it hasn't materialised, so that's had to come out of our plan for social housing.
"It's a listed building, but at the moment we're in the process of looking at whether or not it can be de-listed.
"Because of the time it's stood it would cost a ton of money to renovate. From the perspective of a ward councillor, it's not the most inviting view welcoming you into the city."
The mill was founded by William Halley, a flax manufacturer who became part owner of Wallace Craigie Works spinning mill, which was built in 1836. The most recent plans would see the building's crumbling facade renovated, including retention of the iconic gold lettering.
Ms Short added: "They are quite open to the de-listing, but as with all of these processes, they will have to come out and survey it and do things like that. There are a lot of beautiful mills that have been renovated. We've got the Hotel Indigo that's coming into Lower Dens, there's the High Mill and the Stack at Lochee, so there are a lot of examples of mills being preserved in the city.
"I think, though, we need to recognise this one's lost. It's entirely up to the company what they do with it, but I'd like to think they'd turn it into housing."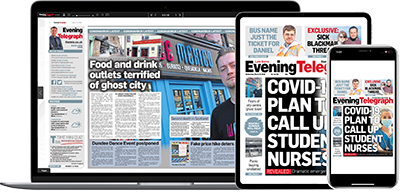 Help support quality local journalism … become a digital subscriber to the Evening Telegraph
Subscribe