Urban explorers have filmed themselves making their way through a derelict Lochee cinema.
A series of YouTube videos show as many as four people exploring the abandoned Odeon cinema – which closed its doors 17 years ago.
The footage shows a vast majority of the building's fixtures and fittings are still largely intact despite shutting in 2001.
Desks, cinema reels and iconic signage within the cinema foyer – including an image of Desperate Dan and the Discovery ship – are visible on the clips.
The group make their way through a number of cinema rooms in the multiplex while unearthing cheque books, prams and bikes.
It is unclear from the footage how the explorers accessed the boarded-up building, located at the Stack Leisure Park.
The Odeon cinema opened in 1993 as part of a massive regeneration of the area with a bowling alley and restaurant also built.
Derelict sites which previously housed Fatty Arbuckles and Megabowl have now been replaced by retailers, including Home Bargains and Aldi.
Biggart & Company, which owns the retail park, has helped to transform the site's fortunes after buying the land five years ago.
All units bar the former Odeon and Tesco petrol filling station are now occupied.
In 2016 it was revealed that bosses behind the Ryze trampoline park had been on course to secure the Odeon site before the deal fell through at the last minute.
Police Scotland said it had received no reports of a recent break-in at the former cinema, but urged would-be explorers to stay clear of the site.
A spokesman for the force said: "There are a number of empty and derelict buildings in Tayside, many of which are hazardous environments.
"People place themselves at risk if they enter these buildings, climb on scaffolding or on the roofs.
"Each year in the UK, dozens of individuals are injured and require hospital treatment as a result of falls and injury whiled exploring derelict or empty premises.
"We would ask so-called urban explorers to keep out of these buildings.
"They are boarded up for a reason and are potentially unsafe, may possibly contain hazardous materials such as asbestos, or be structurally unsound."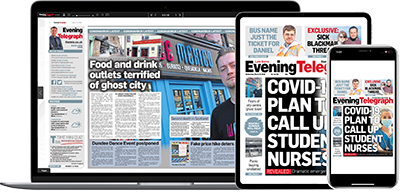 Help support quality local journalism … become a digital subscriber to the Evening Telegraph
For as little as £5.99 a month you can access all of our content, including Premium articles.
Subscribe