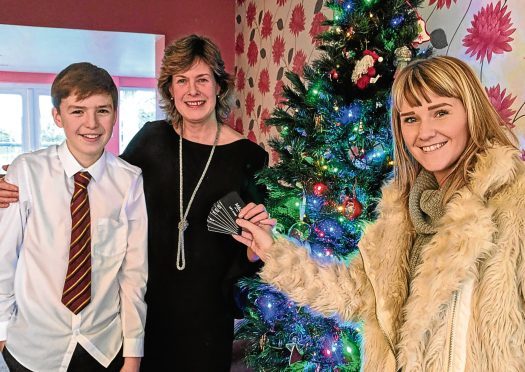 Ten Tele readers received an early Christmas present this week after being picked as winners of our M&S competition.
For one week only, we gave readers a chance to win a massive £250 worth of M&S vouchers by collecting six special tokens.
The lucky winners were Elizabeth Beckers, of Fintry; Edith Gorrie, of Kirkton; Leah Law, of Kirkton; Derek Crilley, from Tayport; Jane Tough, of Strathmartine; Ruth Brown, of the West End; Agnes Sneddon, of the Baxter Park area; Marlene Ogilvie, from Inchture; Glenda MacDonald, of Kingoodie and Mary Noble, from the Glens.
After the winners were revealed, the Tele's very own Christmas elves — Nic Hutchison and Kristina Stephen — hand-delivered the vouchers to each lucky recipient.
Derek told the Tele he couldn't believe he had won.
He added: "I have given the vouchers to my wife to buy something to wear for our son's wedding next year."
Elizabeth said: "It was a big surprise — I couldn't believe I had won.
"I'm absolutely delighted and over the moon.
"I enter these competitions all the time but never expect to win.
"I've decided that I am going to give some to members of my family, as I believe you have to share good luck with your loved ones — thank you Evening Telegraph."
Mary shed a tear when she was told she had won.
She said: "It was absolutely marvellous when the girls came to my door.
"I just couldn't believe that I had won.
"It was lovely of the Tele to offer this competition and I am just over the moon. We have a new granddaughter who is only seven weeks old so I think some of it will be spent on her, but I will definitely need to spoil myself a bit too."
Good-news bringer Nic said: "This is definitely the best part of my job. It was amazing getting to put the prize directly into people's hands.
"We were so well received by all of the winners — it was lovely to be welcomed into their homes and be able to share their joy."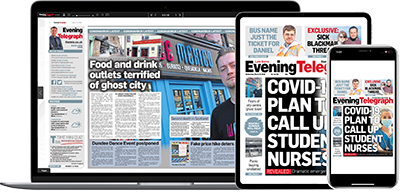 Help support quality local journalism … become a digital subscriber to the Evening Telegraph
Subscribe