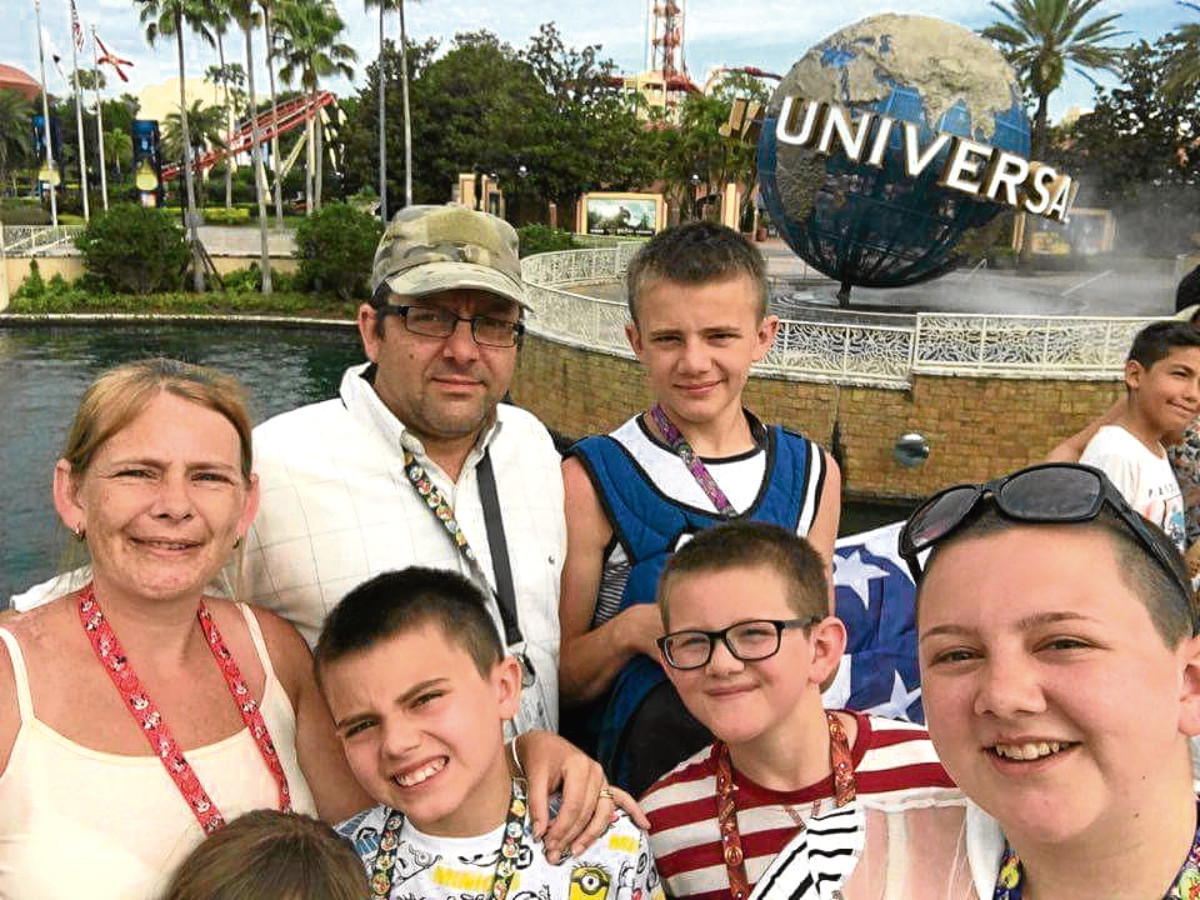 The father of the Tele's courageous Bald is Beautiful heroine Megan Fletcher spoke of his joy after being approved a last minute visa to travel to America to be with his family.
Megan fronted our successful campaign to raise £20,000 for local children fighting the disease, but the 15-year-old was devastated when dad Davie Fletcher, 41, had his application to travel to the States for a dream holiday turned down due to a previous conviction.
The trip to Florida was dubbed a holiday of a lifetime for Megan and her family to start afresh since she went into remission and it had been heart-breaking to leave Davie behind when they jetted off last week.
But in a sudden U-turn by the US Embassy in London, Davie's appeal became successful and he was granted a temporary visa to join his family for the last week of their trip.
The Coldside father was able to surprise Megan as he turned up at her hotel unannounced at the weekend after booking a flight across the Atlantic just hours following the delivery of his visa by post on Friday.
Davie said: "I'm absolutely delighted as it's been a hard time for me. I have never hidden from having the conviction, I pleaded guilty and I told my kids at the time that you have to take responsibility for your actions.
"We had booked this holiday to wipe the slate clean and start again as a family, but being dictated to that you can't go has been one of the most horrible things I've been through."
In 2014, Davie was convicted at Dundee Sheriff Court after he admitted attacking a man who was accused of showing pornography to young children.
Davie was placed on a community payback order with two years' supervision and 200 hours' unpaid work.
The holiday was arranged by charity champion Charlie Kean who had helped with the Bald is Beautiful campaign and he, too, is pleased at the new outcome.
He said: "It's the happiness Megan's family needs and Kean's Children's Fund has paid for Davie's flights."
After receiving notification last Wednesday that a temporary visa would be granted, Davie admitted he had been caught by surprise and quickly packed his suitcase so he could dash to the airport as soon as his flights were confirmed.
He said at the time: "I'll probably end up having one blue shoe and one red shoe on at the same time because I've been all over the place. I just threw stuff in a suitcase, so I'm probably not properly prepared."
Davie said none of it could have been possible without all the help he received from friends and even politicians.
He added: "Every man and his dog has tried to help me, so I'd just like to thank everyone who has helped.
"Even my local MP got involved and sent a letter to the embassy."
The US Embassy in London has been approached for comment.