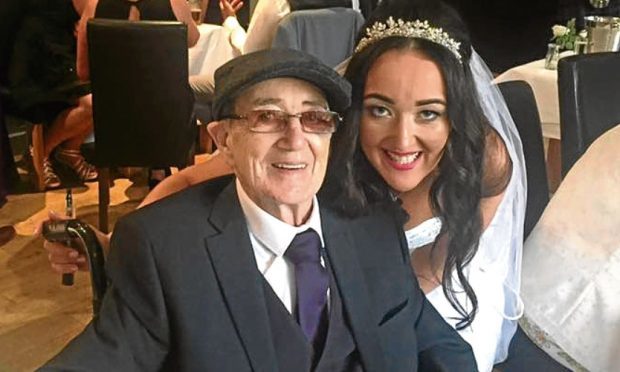 When John Farrell was diagnosed with terminal cancer he had three final wishes — to walk his daughter down the aisle, dance with her at her wedding and die at home.
Now his heartbroken daughter Jenna Gallazi said his family were happy they had been able to honour all three wishes.
John, 77, of Birkhill, gave Jenna away just two weeks before he died with his family by his side at a relative's home in Kirkton.
The pensioner had only been diagnosed with cancer on August 1, prompting Jenna and partner Nik to make the decision to tie the knot in September before they lost him earlier this month.
Jenna, 26, from Inchture, said: "We were told that the illness was very advanced and that there was no treatment for him.
"At that time dad said he would love to be able to walk me down the aisle, so my partner Nik said, 'OK let's do it'."
Jenna said that she and Nik have been together for eight years and have two sons — Rio, 5, and Chase, nine months.
"We'd always planned to get married but had never got round to it," she said.
"However, when dad was diagnosed we pulled out all the stops and our wedding was arranged for September 22.
"It was all fairly frantic but we were determined to do it for dad.
"As the time grew closer and dad got weaker and weaker I was really worried that he wasn't going to make the wedding.
"However, I think he hung on in for the day because he so wanted to be there to walk me down the aisle and give me away."
Jenna said that the night before the wedding at the Lovat Hotel in Perth, John stayed with her so she could continue to nurse him.
"He was so proud walking me down the aisle," she added.
"Later we had our father and daughter dance to a song I found called You Can Let Go Now Daddy.
"I decided it was perfect for dad and I to dance to.
"I don't think there was a dry eye in the room — it was very emotional."
Retired John, who lived in Birkhill, previously worked as a steward on the oil rigs.
He was a well-known face at the Mecca bingo hall in Dundee.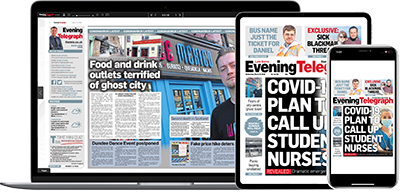 Help support quality local journalism … become a digital subscriber to the Evening Telegraph
Subscribe