The level of personal debt accrued by the average Dundonian is falling – but those in dire straits are still shouldering sums in excess of £14,000.
Figures provided by the Citizens Advice Bureau Dundee show the average level of unsecured debt held by those seeking advice is £14,834.
"Unsecured" debts refer to bills built up on credit cards, overdrafts, bank loans and money lent out by payday lending firms.
Tracy McNally, director of CAB Dundee, said people in financial trouble were often overburdened by day-to-day living costs.
She has urged those having problems with debt to get help as soon as possible.
"Council tax debt and credit card debts are the most prevalent, followed by loans and overdrafts," Tracy said.
"Our experience is that clients are using several credit cards to fund their day-to-day living costs such as shopping, utility bills and travel costs.
"Once they have maxed out these cards they are at crisis point and that's usually when they approach us for assistance.
"We would encourage anyone experiencing money issues to seek assistance sooner rather than later.
"They may be missing out on benefits they could be claiming which could maximise their income, and be given assistance with financial budgeting."
Dundee Debt Map – An infographic by the team at Creditfix
Analysis of longer-term trends suggests that, despite the enormous amounts of debt being incurred by locals, the average is lower than in previous years.
Figures provided by the insolvency agency CreditFix show levels of debt last year were similar to the most recent figures from Citizens Advice – £14,210.60.
Five years ago, average personal debt in Dundee among those seeking help was £17,025.09, and a decade ago it was as high as £19,270.78.
However, with the Christmas shopping season approaching, families could soon be feeling the pinch again, according to Stephanie Chapman, managing director at debt agency Carrington Dean.
She said: "If spending continues to rise, there could be a further spike in outgoings, leaving a lot of people short for the festive period.
"As families now turn their focus to Christmas, they may start to see the impact of an expensive summer and consequently become more reliant on credit."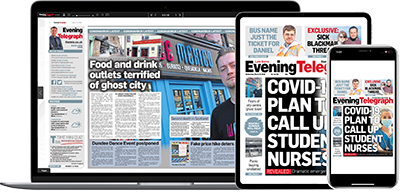 Help support quality local journalism … become a digital subscriber to the Evening Telegraph
Subscribe