A suspected murder-suicide was discovered after cries of children including a baby were heard coming from a property, police said.
A 26-year-old woman is thought to have been violently attacked and killed by her 30-year-old husband before he took his own life at the family home in the West Midlands.
A neighbour called police on Saturday afternoon after becoming concerned by the cries of three children, all aged under eight, at the address in Pel Crescent, Oldbury.
We have launched a murder investigation after a man was stabbed in a Birmingham street: See: https://t.co/fPfasucNj3 pic.twitter.com/POdNfw959w

— West Midlands Police (@WMPolice) August 7, 2017
West Midlands Police Detective Inspector Jim Munro said police are not looking for anyone else in connection with the deaths.
He said: "This is a truly tragic incident: it's understood the woman was violently attacked before the offender took his own life.
"The timeline of exactly what happened is unclear but we believe the two people died during the morning.
"There were three children, including a small baby, present at the address when officers made the discovery − they are being looked after by loved ones and will receive specialist support."
Post-mortem examinations will take place later on Monday, police said.
The bodies of a man and woman have been found in a family home in #Oldbury in a suspected murder-suicide https://t.co/Ysen6Fcb7B

— West Midlands Police (@WMPolice) August 7, 2017
Meanwhile, shocked residents spoke of their horror at the news in what is usually a quiet suburban street.
One man, who declined to be named, said the dead couple's eldest daughter had raised the alarm, knocking on their immediate neighbour's door.
Police and at least three ambulances rushed to the semi-detached house, home to what neighbours described as an Eastern European couple, on Saturday afternoon. The property is thought to belong to a housing association.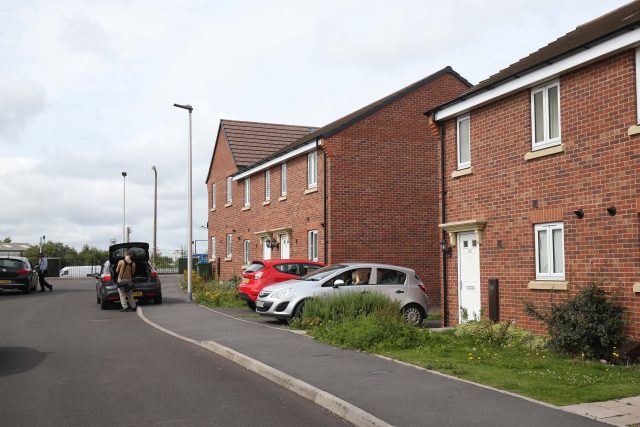 He said: "The eldest, their daughter, is about seven or eight – she knocked on the neighbour's door. There's a small baby and another child. The children were taken out. One of them, the middle child, was refusing to come out initially, as they wanted to stay inside with their mother."
Another neighbour said: "It's such a shock, I can't believe it. Nothing usually happens here, it's really quiet.
"I just feel for the kids, you know, because they've lost their mum and their dad."
Outside the house on Monday, two police sitting in an unmarked car were the only signs of what had taken place behind the property's white front door.
The curtains were drawn, while in the tidy back garden a trampoline and a child's ride-along car could be seen.