Two cousins who were born on the same day are set to start school just days apart this week.
Luca Ahsan and Connell Moran were born to sisters Sara and Amy on September 27 2013 – arriving just 13 and a half hours apart.
Now they're preparing for the next big step in their journey by starting full-time education at the same time.
Luca will attend St Joseph's RC Primary, just off Blackness Road, today and Connell will start at the new Longhaugh Primary building in Fintry on Thursday.
Sara, who had Luca with husband Ari, said: "They are very excited and ready to go.
"They would love to go to school together but we live at the other end of town so they are in different catchment areas.
"Luca is very inquisitive.
"He needs to know how everything works and he asks questions about everything, whereas Connell is more outgoing.
"Luca will absolutely love going to school."
Sara, who gave birth to another son, Raiyan, in February, said Luca has been a really good older brother.
Speaking about the bond between Luca and Connell, she said: "They are really quite close.
"They like having sleepovers at each other's house."
Sara said the boys are so close that Luca even refers to Connell as his best friend rather than his cousin.
Amy, who had her son with husband Jamie, said: "Connell's school is not quite built yet so he's not been in the building.
"Luca is the more inquisitive one.
"Connell is more playful – he's just excited to see friends.
"I don't think he quite knows what he is going into.
"I think he is ready for it.
"He just seems to have grown up so much over the summer and I think it will be good for him.
"They are more best friends than anything.
"I don't actually think they realise they were born on the same day."
The youngsters have grown up having joint birthday parties.
Their fifth birthday in September will be no different, with a swimming party.
Granny Lynne Robertson and grandad Colin are also proud of their grandsons.
Lynne said: "They are really excited about school – and we are too."
Lynne added that Luca was happy to be going to the same school as his big sister, Macie, 8.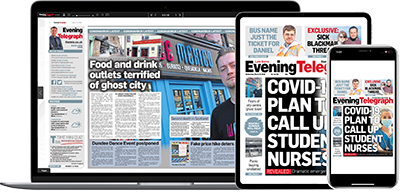 Help support quality local journalism … become a digital subscriber to the Evening Telegraph
Subscribe