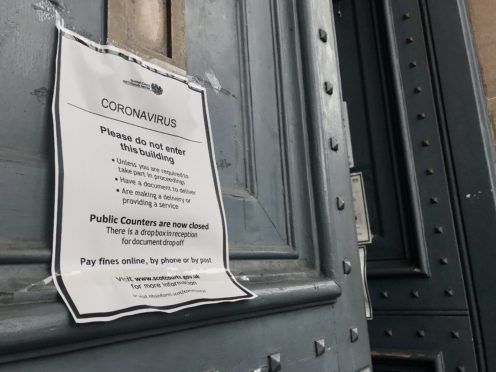 Courts across Tayside have closed and all but essential court procedures have been indefinitely postponed due to the coronavirus.
Perth and Forfar sheriff courts barred their doors on Wednesday, days after public counters were closed to reduce the risk of passing the virus on.
Dundee Sheriff Court is now managing business for the whole of Tayside, with Falkirk handing business in Fife, for the foreseeable future.
To prevent cases from across the region clogging up Courthouse Square only the most time-sensitive cases are being called, with the rest indefinitely put off.
Initial hearings for cases, known as first diets, have been postponed for three months until further notice.
Other trial hearings will take place from August at the earliest, with all sentencing hearings deferred for at least eight weeks from now.
---
---
It is understood that administrative court staff will be able to continue postponing cases beyond this time without a formal hearing before a sheriff.
Only cases where individuals have an undertaking to appear, or have been arrested and kept in police custody in the days beforehand are being called.
Those exhibiting symptoms of Covid-19 will be able to appear via video link.
And the general public has been banned from attending altogether.
The Scottish Courts and Tribunals Service, responsible for running Scotland's courthouses, said it was aiming to maintain "essential services that support justice".
In a statement published on Tuesday night, it said: "Courts have already ceased all jury trials, adjourned all but essential summary criminal trials, adjourned all civil hearings involving witnesses and tribunals will only proceed with essential hearings by audio conference.
"In line with government advice these courts will not be accessible to the general public.
"Following medical advice, there are good hand washing facilities and anyone who wishes is welcome to wear a face mask or bring hand sanitiser.
"A quick thanks to all of our staff, judiciary and other justice sector colleagues who came to work today to support the justice system and to help us move to a new way of working."
From the Editor: The Tele is on your side — that's why we're offering our ePaper FREE for three months