A couple say they are prepared to cancel their wedding next year to care for their puppy who was injured in a hit-and-run.
April Neish and her fiance Paul Montgomery's seven-month-old black Labrador Baxter suffered three broken legs on Friday night and is now being sent to Dundee for specialised reparative surgery.
They initially feared he would have to be put down but last night they received the good news that Baxter was OK to receive an operation.
Now they admit they may have to make a huge sacrifice to meet the cost.
According to the Press and Journal, Miss Neish said: "We both agreed that we would postpone our wedding next year if we need to pay thousands for the vet's bills.
"Baxter is far too important to us – he's part of the family."
A car hit the young dog after he ran out onto the B976 Strachan to Aboyne road in Aberdeenshire and it failed to stop.
Baxter has been kept under observation at the Woodside Veterinary practice in Torphins since the accident, where they had x-rayed him yesterday once he had stabilised.
Miss Neish commented on the "amazing" care he had received there and said: "The x-rays were sent to a referral clinic in Dundee, which is the nearest place for us. They have given the go-ahead for surgery – but we were also considering the worst case scenario of having to put Baxter to sleep.
"We're absolutely ecstatic that he's going to be given a chance.
"They have quoted us a figure that isn't as much as we had thought; at between £5,000 and £10,000 – if it goes any higher we will have to cancel the wedding.
"But we are so pleased that they can try and fix him, we don't care what it costs."
Mr Montgomery rushed to the road after hearing a "huge bang" and found Baxter "in a terrible state".
Appealing for the driver of the car to come forward, Mr Montgomery said: "Judging by the noise I heard, I'd imagine the car has got some damage."
A police spokeswoman confirmed last night that they had received a report of a dog being hit by a car on Friday in Strachan, adding: "No one has yet come forward but we would urge anyone with information to let us know by phoning 101."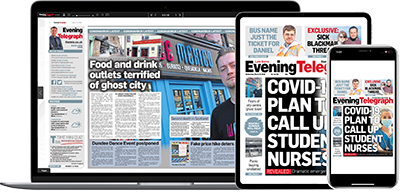 Help support quality local journalism … become a digital subscriber to the Evening Telegraph
Subscribe