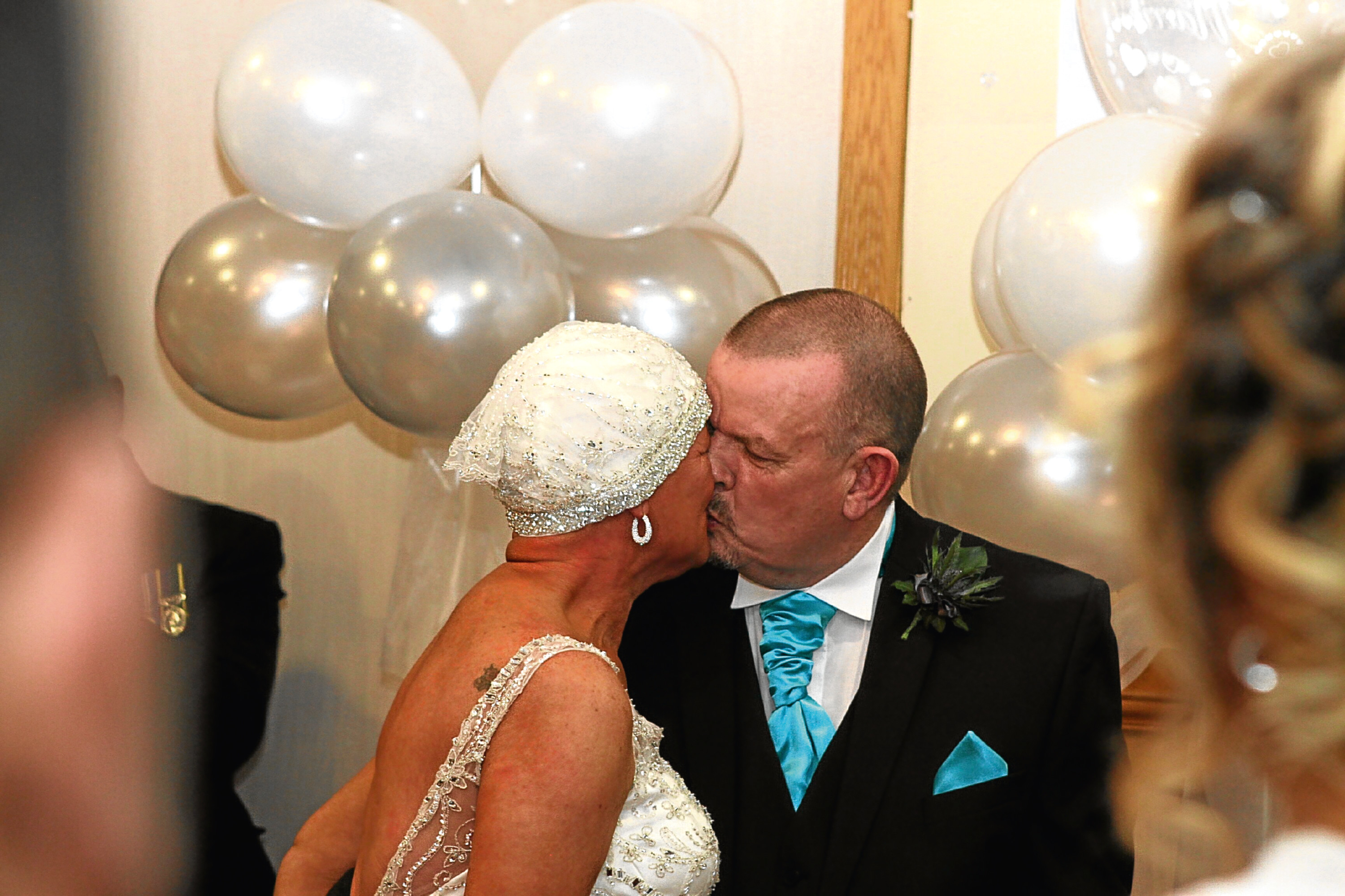 There wasn't a dry eye in the house as Lyn and Jim Ferguson exchanged their wedding vows.
But the devoted couple's wedding day was not like any other — it was brought forward because Lyn is battling stage four cancer.
Amid the sadness at the 56-year-old's ongoing fight, there was joy and laughter as the pair celebrated their big day with friends and family.
The couple, who grew up in Dundee and now live in Forfar, were due to be married in Tenerife on March 4 next year.
All the arrangements were in place but, in July, Lyn was given the heartbreaking news that she had Non- Hodgkin lymphoma.
She said: "I was devastated and spent the first month in tears. I was told that unfortunately the cancer was at stage four, meaning it had spread to other parts of my body and was also in my bone marrow."
Lyn, who works in Forfar's Burns Bar, added: "Chemotherapy started right away and since then I have had six bouts — and I'm delighted to say that so far it seems to be working.
"I am now waiting to have a bone marrow biopsy on December 14 so the doctors can decide what treatment to give me next."
After the diagnosis, Lyn and Jim, 55, decided to stick with to their original plan to marry in March but six weeks ago doctors "suggested" it might be an idea to make plans to hold it at home in Scotland instead.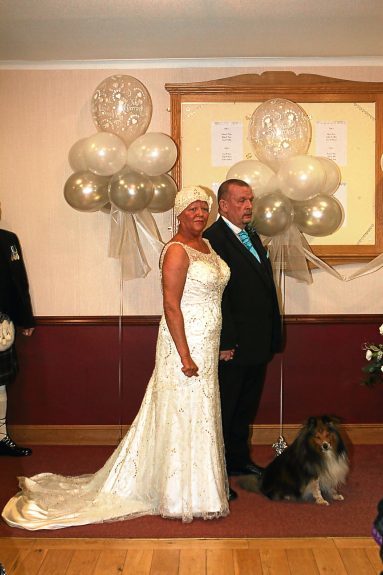 Lyn said: "We decided to bring the wedding forward and to hold it in Forfar — not because I am dying because that's not something I'm prepared to contemplate but because I might not be strong enough to go to Tenerife. My dream is that we will still travel there for a belated honeymoon, though.
"I don't know if that will be possible but that's what we're aiming for and so are our family and friends.
"I'm just so happy that we have been able to hold our wedding now and enjoy our amazing day with our families."
Lyn was given away at the wedding by her brother-in-law Sean Lettice, while his wife, Lyn's sister Mandy, was one of the bridesmaids.
Sean and Mary live in Kirkton, Dundee.
Matron of honour was Lyn's best friend Sheena Martin, of Monifieth, while the other bridesmaids were her nieces, Nicola McGuiness, from Kirkton, and Danni McGuiness, from St Mary's. Great-niece Macy-Lee McGuiness, six, was the ring-bearer.
Lyn added: "I'm so lucky to be surrounded by so many family and friends I can't really complain. So many people are so much worse off than I am.
"I'm determined to fight this illness and get well again."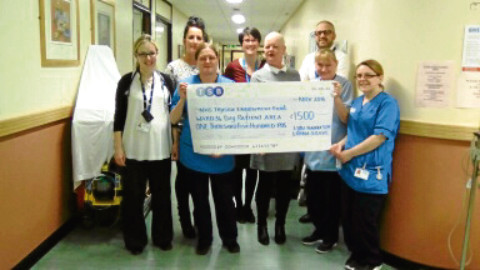 Lyn said that while she was trying to remain positive it was impossible not to get down sometimes.
She added: "I had a lot of bad days at the start, especially when my hair literally fell out overnight in the first month of treatment.
"But I've learned to cope and am concentrating on getting well."
Lyn has set her mind on raising money for Ward 34 at Ninewells Hospital and for the Maggie's Centre, which she says have both been amazing.
Along with her friend Lorna Soave, 43, and other friends and customers at the bar, she has so far raised £1,650.
And she says she still has other plans to keep the cash flowing in.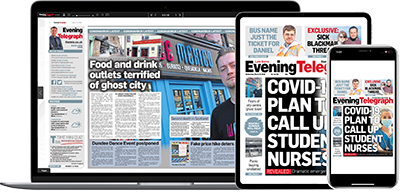 Help support quality local journalism … become a digital subscriber to the Evening Telegraph
For as little as £5.99 a month you can access all of our content, including Premium articles.
Subscribe