A Dundee councillor has turned down an invitation to the V&A opening ceremony to stand with those of his constituents who live in poverty.
Lochee councillor Charlie Malone will not be attending the grand opening of the £80.1 million museum on September 15.
While insisting the decision is not a "snub" and wishing the museum the best of luck, the Labour councillor said the decision was made to show that not everyone in the city will be able to enjoy the V&A.
Mr Malone said: "As a councillor in a ward that suffers from areas of multiple deprivation – where poverty affects one in three children – I cannot indulge.
"Many of my constituents will never be able to afford to take their families to visit the exhibitions, nor indeed, the bus fare."
He went on: "I sincerely hope, the Waterfront project will succeed and the V and A prosper, but, whilst poverty leads inevitably to the economic isolation of hundreds of my constituents from it, I cannot bring myself to indulge in the celebration.
"I am not critical of those councillors who will be involved, not at all. Solidarity is an expression-of oneness with a community that is why I choose not to attend. I will celebrate when socially inclusive Dundee is a reality."
Unite the Community Tayside is planning a series of anti-poverty protests across the city in the run-up to the opening of the V&A.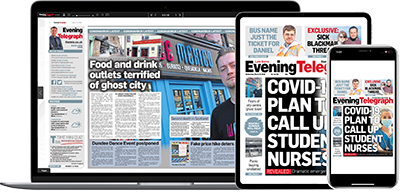 Help support quality local journalism … become a digital subscriber to the Evening Telegraph
For as little as £5.99 a month you can access all of our content, including Premium articles.
Subscribe