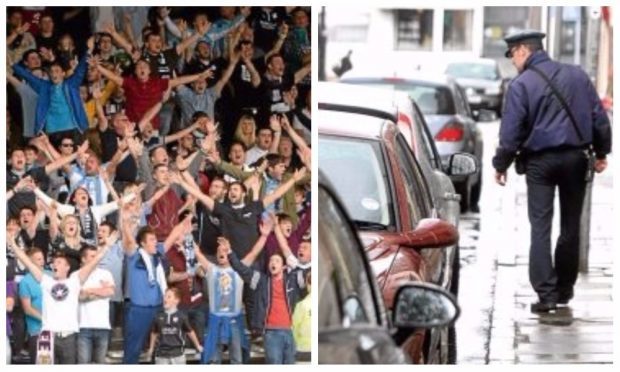 Traffic wardens are set to turn out in force on Wednesday night to crack down on illegal parking during Dundee's football derby.
Dundee take on Dundee United at Dens Park in the Betfred Cup, and the match is expected to be close to a sell-out.
In previous seasons, residents living near both football stadiums have complained about fans parking inconsiderately or illegally on local roads — and in some cases they've been accused of blocking driveways and pavements.
Now, Dundee City Council has issued a warning to fans that wardens will be out patrolling the area around the ground during the fixture.
The move comes as part of new evening patrols by traffic wardens across the city in an effort to curb "irresponsible and dangerous" parking later in the day.
Workers will target vehicles that are blocking other traffic or creating a safety hazard during Wednesday's match.
Councillor Mark Flynn, deputy convener of the council's city development committee, said: "In preparation for the evening enforcement at the game, our team will be noting vehicle registration numbers in the area both in the morning when the cones are being put out and then again around 5pm.
"By doing this we hope to ensure we give as many residents an exemption as possible.
"But there is no excuse for parking dangerously or inconsiderately and anyone who does so runs the risk of getting a penalty charge notice of £60, with a 50% discount if it's paid within 14 days.
"Parking restrictions are in place for the safety and protection of all road users, including pedestrians, and I would appeal to fans going to the match to be mindful of that when they choose where to park.
"Alternatively, there are a number of bus routes that go up Dens Road and nearby streets."
The new evening enforcement action was introduced a week ago, and saw wardens patrolling streets out of normal working hours for the first time.
City development convener Councillor Lynne Short said at the time: "For years now we have received complaints about people parking irresponsibly and dangerously in the evening.
"We have therefore decided that in order to tackle this issue we are going to change the work pattern of the parking attendants so they are patrolling the streets in the evening." Information showing the number of people caught by the wardens as part of the new crackdown is expected to be released at the end of August.
More than 29,500 people received parking tickets from council wardens in 2016/17, down from 31,332 the previous year.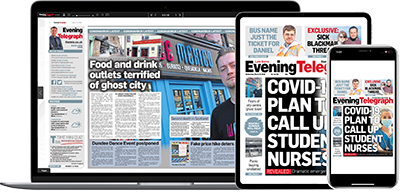 Help support quality local journalism … become a digital subscriber to the Evening Telegraph
Subscribe