The council's axe isn't the only thing being sharpened in the coming weeks – Dundee Ice Arena's skate grinder is due a five-figure upgrade.
Councillors on Dundee's policy and resources committee are being asked to note that the new piece of equipment has been purchased for £12,950.
The new kit was purchased in "urgent" circumstances, without committee approval, following cross-party consultation between councillors and local authority officers.
Dundee Ice Arena welcomes about 55,000 skaters each year, more than half of whom hire skates.
Staff keep 1,000 pairs of skates on hold for hire and the council claims keeping every pair sharp is a "neverending task".
The council said: "The ice skate grinder which is used to sharpen skaters' blades at Dundee Ice Arena is of considerable age and is in urgent need of replacement.
"The blades need to be kept sharp with each pair of skates sharpened every four weeks.
"It takes roughly four weeks to sharpen all the skates so the process repeats making it a never-ending task to keep them in good condition."
Greg Colgan, the council's executive director of corporate services, agreed the direct replacement of the device on a "like for like basis" with Lord Provost Ian Borthwick and representatives of Dundee's Labour, Conservative and Liberal Democrat groups.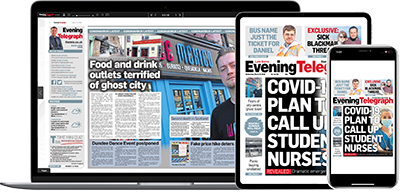 Help support quality local journalism … become a digital subscriber to the Evening Telegraph
Subscribe