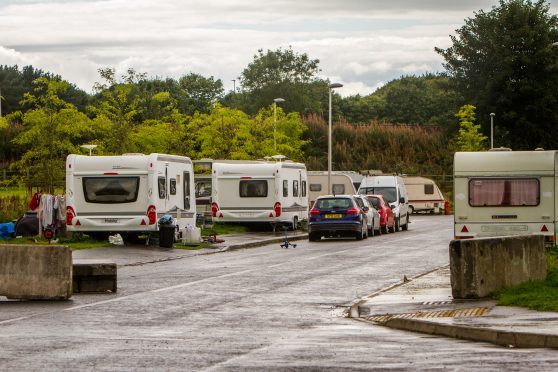 Legal action is being taken to evict Travellers from a multimillion-pound development site, council bosses in Perth have confirmed.
About a dozen caravans set up camp at the city's under-construction Food and Drink Park about six months ago.
Perth and Kinross Council initially served notice on the group, giving the Travellers 24 hours to leave but the authority agreed to grant a reprieve and enter into further talks.
As construction on the business park reaches a crucial stage, the council says the site now poses a health and safety hazard.
A local authority spokeswoman said: "The council continues to monitor and engage with the encampment.
"Unfortunately, the council has been unable to reach an agreement with the Travellers to vacate this unauthorised site. Now, due to construction activity significantly progressing and an increased risk to health and safety, the council has taken the decision to take legal action to resolve the issue."
Local councillor Chris Ahern said: "The site has been used by Travellers on a rolling basis — when families move on others move in. Therefore any notices given to them only apply to those who were there at the time.
"It has now come to a point where action needs to be taken to move them on. We need to use the park for the purpose it was built and in order to do that the Travellers will have to move on."
Mr Ahern said he had also received complaints from residents about litter and aggressive dogs, adding: "For the benefit of the businesses around the site, and for the Travellers and their safety, they must leave the site."