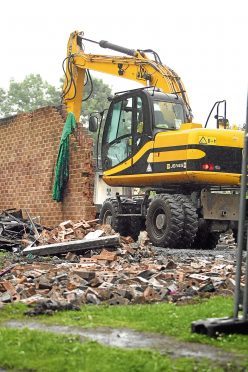 Dundee City Council has been forced to fork out £15,000 of public money to demolish a fire-hit community centre.
Mill o' Mains Community Pavilion went up in flames on Sunday evening last week.
It's thought a wheelie bin and large "tractor" tyre were used to start the blaze.
Council contractors began demolishing what remains of the building on Wednesday.
The facility acted as a community hub for children's clubs and fitness classes.
Now the Tele can reveal that it cost the taxpayer £15,000 to demolish the wrecked building.
Jim Malone of the Mill o' Mains Tenants and Residents Association said the waste of public money was "disgusting" — and he said he hoped the people behind the fire would be brought to justice.
He said: "The building was the heart of the community — it was used every day. Sometimes it was double and triple booked. That's how popular it was.
"We have had a number of serious fires started by fireraisers around the city and it is a very big problem in Mill o' Mains. The people who are behind this need to be brought to book."
Area councillor Brian Gordon said it was "tragic" the fire had resulted in a cost of £15,000 which "could have been better spent elsewhere".
He said: "The community centre was a great thing and the people in the area need somewhere to go."
When the work started, a Dundee City Council spokeswoman confirmed the fire had damaged the building to the point where it could not be saved.
Mr Gordon also called for councillors to come together in the wake of the blaze to solve the issue.
He said: "I welcome the thoughts of council leader John Alexander on this issue and look forward to getting around the table and going forward as one."
Police Scotland said inquiries are ongoing.
Depute convener of the policy and resources committee, Councillor Willie Sawers, said: "I am keen this working group gets set up as quickly as possible.
"The whole of Mill o' Mains has shown their support and we want them to help shape what happens next.
"We will ensure the wider community is kept informed during this process."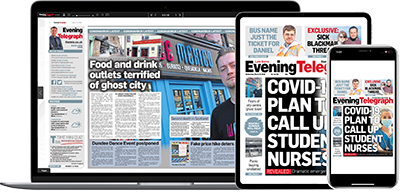 Help support quality local journalism … become a digital subscriber to the Evening Telegraph
For as little as £5.99 a month you can access all of our content, including Premium articles.
Subscribe