Social rent arrears run up by Dundee council tenants on Universal Credit have doubled since the start of the year, new figures show.
Figures from the city council show that 1,142 UC claimants owe £712,900 to the authority in rent, up from £335,000 at the start of January.
Claimants owe an average of £625 each, while other households – including those on "old style" housing benefit – typically owe £404 each.
Westminster benefit chiefs have attempted to placate critics of UC by cutting the time new claimants wait for their payments, from six weeks to five.
Scottish claimants can also be paid every two weeks instead of monthly.
However, critics say this is not enough. Mary Kinninmonth, director of Dundee's Citizens Advice Bureau, said UC's online system hampers less computer-literate claimants.
She said: "The main things we see are people still having difficulty in making and managing online claims due to lack of confidence and/or knowledge of computer skills.
"The helpline is also very difficult to get through to with long waiting times.
"Even though the waiting time has reduced, there is still a waiting time – which will often mean people going into rent arrears."
Full service UC rolled out in Dundee in November, following a trial period for new single applicants.
The number of Universal Credit issues dealt with by Dundee CAB has risen by almost 50% following the introduction of the full service.
Dundee City Council gives UC claimants a reprieve over their arrears, acknowledging the delayed payouts the DWP makes from month to month.
A spokesman for the authority said a £250,000 hardship fund for council tenants was created in April 2016, boosted to £450,000 for this year.
He added: "We continue to do a considerable amount work to support tenants on Universal Credit.
"If a tenant is having difficulties paying their rent a referral to the Council Advice Service is made. Staff there can offer help and assistance."
A spokeswoman for the DWP said claimants can receive advance payments if required from day one.
She added: "We have removed the seven-day waiting period from new claims and pay people's Housing Benefit for two weeks while they wait for their first full Universal Credit payment."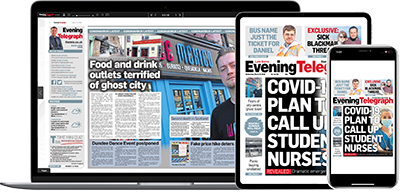 Help support quality local journalism … become a digital subscriber to the Evening Telegraph
For as little as £5.99 a month you can access all of our content, including Premium articles.
Subscribe