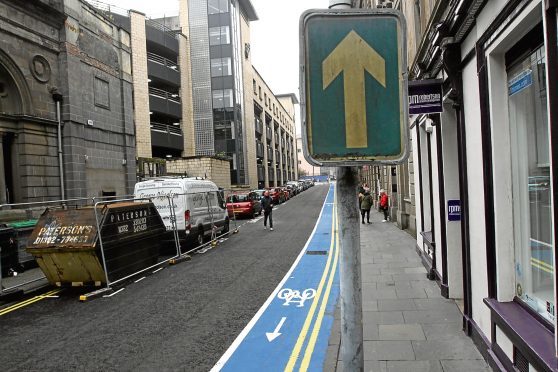 Dundee City Council has defended a cycle lane on a one-way city centre street which leads cyclists into oncoming traffic.
The recently-installed lane on Bank Street has been painted blue and directs cyclists east, while other traffic can only travel west.
The Tele was contacted by a concerned reader who feared the cycle route could lead to an accident.
In a letter, the person wrote: "How can this be safe?
"Cars travelling down Reform Street have to take the sharp right turn into Bank Street when they reach the pedestrianised area.
"Drivers are not going to be expecting cyclists to be travelling in the opposite way and heading towards them.
"As car parking spaces are on the south side of the road, drivers stick to the north side pavement as they turn – only now they might find a cyclist there.
"And what about pedestrians? They are just as likely to only look for cars coming down Reform Street."
In response Councillor Kevin Cordell, Dundee's new cycling spokesman, believes the lane makes cycling safer.
He said: "A contraflow cycling lane was recently introduced to Bank Street and I warmly welcome this development.
"This new cycle lane is on a desired route for many cyclists and was identified as an area for improvement by the Dundee Cycling Forum during its city centre street audit in April.
"Giving cyclists the space and opportunity to ride against the main flow of traffic on a one-way street makes cycling easier and safer and this is the kind of development that I'm determined to see more of.
"The Scottish Government has recently doubled its active travel budget and that will help us deliver more projects like this one.
"To address safety concerns, some existing parking bays were removed from the immediate corner of Reform Street and Bank Street."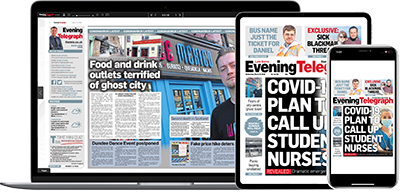 Help support quality local journalism … become a digital subscriber to the Evening Telegraph
Subscribe