The council is to distribute 250 large bins across Dundee to replace old ones damaged by vandals and corner-cutting council refuse workers.
The replacement burgundy Eurobins – which collect plastic, metal and cartons – will be rolled out to flats and houses in the coming weeks.
It comes after residents broke chains and locks on existing bins in order to dispose of other types of waste – leading to "contamination".
Paul Raeper, service manager for waste management at the city council, also said some mechanisms had been broken by bin workers taking "shortcuts" when collecting residents' recycling.
An education programme will now be put in place to ensure staff are following correct procedures, while the damaged bins are replaced.
Mr Raeper told a meeting of West End Community Council: "We have 250 burgundy bins that we will be introducing across the wards to try to reduce contamination.
"There have been issues with contamination – the lids have been deliberately broken to get general waste into burgundy bins.
"There is another locking mechanism that will be rolled out which operates in the same way as a car bonnet.
"The roll-out is very much a work in progress."
The meeting heard that West End residents have concerns about fly-tipping, as people try to avoid the cost of getting bulky waste disposed of – particularly around the time students move into the area, which has one of the highest volumes of houses of multiple occupancy (HMOs) in the city.
Mr Raeper said the special collection service needed to be promoted better.
He added that a system is being reviewed to make skips more accessible, which will help landlords deter fly-tipping among their tenants.
However, Mr Raeper said he realised not all landlords operated through an accredited council scheme and efforts to get greater collaboration were still in their early stages.
"We are aware these problems are taking place around the time students are set to move into properties," he said.
"We will be looking to work more closely this during the next intake of students when most of these issues arise."
Meanwhile, Mr Raeper said a process to engage with residents across the West End to address issues with recycling was proving "successful".
More than 4,000 properties were targeted by canvassers, thanks to funding secured by Zero Waste Scotland, to help residents with issues including incorrect labelling on bins and a lack of food waste bins in some student facilities.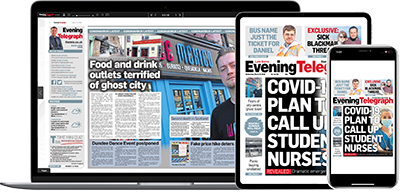 Help support quality local journalism … become a digital subscriber to the Evening Telegraph
Subscribe