Residents of a Dundee high-rise clad with material linked to a deadly London tower block fire nine years ago say they have been told a "pack of lies" by officials.
It has been revealed that Dudhope Court, off Lochee Road, is coated with a combustible high-pressure laminate cladding.
The material falls below the standards recommended by the Scottish Government's fire safety experts. An inquiry found the material aided the spread of a fire at Lakanal House in London in 2009, which killed six people.
One resident, who has lived on the top floor of the Dudhope high-rise since 2014, said: "The building was chock-full of officials after the disaster at Grenfell. They were carrying out all sorts of tests.
"Why send a letter telling everyone it's safe when it seems it isn't fully?
"Get them down here to apologise to every person who lives here. They've told us a pack of lies."
Dudhope Court is fitted with top-of-the-range insulation but concerns have been raised about the cladding, which meets the British equivalent of the European safety class B-rating.
The Scottish Government-appointed Building and Fire Safety working group, set up in the wake of the Grenfell fire disaster in London, has recommended that all high-rises meet a European A-rating.
There is no suggestion the tower blocks in Fife or Dundee are unsafe but other Scottish authorities, including Glasgow Housing Association, use non- combustible A1-rated cladding.
A Dundee City Council spokesman said: "Following the Grenfell Tower fire, a cladding panel at Dudhope Court was removed for testing and the insulation was independently verified as non-combustible.
"We will now be writing to tenants of Dudhope Court to further reassure them about the safety standards of the multi-storey block."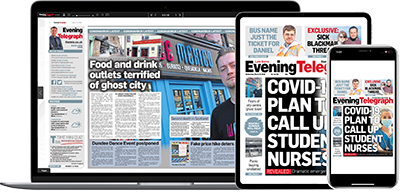 Help support quality local journalism … become a digital subscriber to the Evening Telegraph
For as little as £5.99 a month you can access all of our content, including Premium articles.
Subscribe