Police in riot gear swooped on a Dundee street after a man allegedly barricaded himself in his flat.
Residents spoke of their shock after multiple police units descended on an address on Forth Crescent just after 1pm on Monday.
A man — who was seen being taken away by police in riot gear — was arrested for a breach of the peace after an alleged 40-minute stand-off with officers.
More than half-a-dozen police officers in riot gear had been seen entering the block whilst sniffer dogs were also in attendance.
Concerned residents, including the man's flatmates, looked on from the street. Police advised there was no immediate danger to the general public.
Joey Ciccone, 39, a nurse from Menzieshill, said the alleged situation "escalated" before a man was taken from the flat.
He said: "It initially kicked off with two police cars, then more officers started arriving — then riot police followed suit. The whole thing lasted about 30 minutes and we saw someone getting lifted.
"I was shocked to see the riot cops.
"There must have been seven of them making their way into that address."
Another witness, Susan Walker, 43, said she couldn't believe how many officers were at the scene.
She said: "It isn't uncommon to see police in the area, but there were a lot of officers on the scene.
"More kept arriving. We thought it was maybe a drugs raid when the officers arrived — there were no sirens."
Another witness alleged that police officers had kicked a door down within the flat, which is shared with other tenants.
Steve Goudie, 40, said that there had been a 40-minute stand-off before a man came out the flat with police officers.
He said: "Like many residents we thought it was a drugs raid but with the volume of police that arrived we thought there were too many cops for that."
Alistair Cumming, 53, who lives within the block, said he saw officers in riot gear leaving the building.
He said: "There were more than six officers leaving in riot gear.
"I was stunned — I couldn't believe I had slept through the whole event."
A Police Scotland spokesman confirmed they attended Forth Crescent yesterday afternoon.
The spokesman said: "Police Scotland can confirm that a 26-year-old man has been arrested for a breach of the peace following an incident at an address in Forth Crescent, Dundee."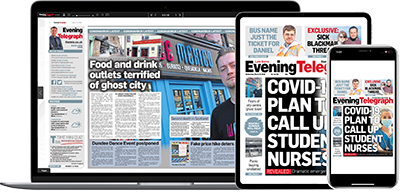 Help support quality local journalism … become a digital subscriber to the Evening Telegraph
Subscribe