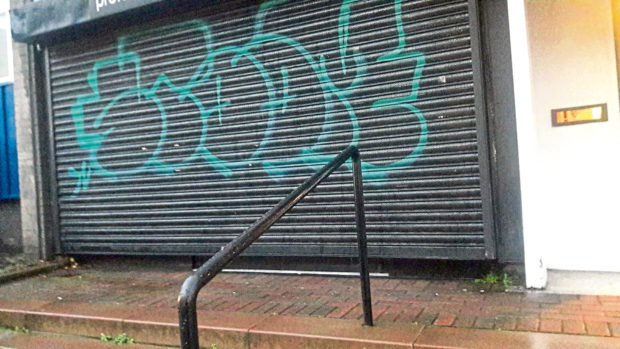 Locals have hit out at vandals who tagged several West End buildings with graffiti.
Houses and business premises have been sprayed with green paint in recent days.
The matter has been reported to police, who say they are investigating.
Among the businesses targeted was Salon Services, on Hawkhill, which reported that it had been vandalised.
A member of staff said the incident happened some time between the firm closing on Friday night and reopening on Saturday morning.
A block of student flats was also vandalised.
Buildings on Blackness Road have also been hit – with a similar tag sprayed onto each of them.
The properties are all within about 100 yards of each other.
One commuter reported seeing the vandalism on his way to work – and branded the graffiti an "eyesore".
He said: "I was making my way into work and saw there were a number of buildings with the same markings.
"I know that some of the murals look brilliant across Dundee.
"But looking at this graffiti, it is nothing more than vandalism.
"It's an absolute eyesore, especially on the buildings where people live."
Councillor Fraser Macpherson, who represents the West End ward, said the vandalism was "unsightly".
He added that spray paint could be costly for businesses and property owners to remove.
He said: "I'll certainly contact the rapid response team.
"I would urge anyone with any information to contact the police.
"I'm very keen to get it cleaned up as soon as possible for all concerned."
Fellow ward councillor Richard McCready added: "I'll be raising this with Police Scotland and the council – it is completely unacceptable that this has happened.
"It certainly takes away from the quality of the area."
A spokeswoman for Police Scotland said: "We received reports of vandalism at a premises on Hawkhill.
"Inquiries are ongoing into the matter."
Graffiti has been encouraged in certain areas of Dundee through dedicated walls or murals, where artists have been free to tag them as they see fit.
This includes a long section of wooden boards on a path running from Seabraes to Roseangle playpark.
In Lochee, a mural dedicated to the area's heritage has also been created at Thomson Park on Liff Road – home of Lochee United Junior Football Club.
Those behind the mural said they wanted it to become the largest graffiti wall in the UK.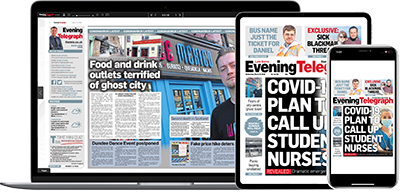 Help support quality local journalism … become a digital subscriber to the Evening Telegraph
Subscribe