One of the masterminds behind Copenhagen's urban regeneration has lambasted Dundee's Waterfront project.
Mikael Colville-Andersen was in Dundee last week as a keynote speaker at the Sustrans Raising the Standards event.
The urban developer, who was one of the key figures in transforming Copenhagen and rejuvenating cycling culture in the Danish capital, was not impressed with Dundee's Waterfront design.
Ahh. Sunrise over Motordom. #Dundee #Scotland pic.twitter.com/d6lbheibcr

— Colville-Andersen (@copenhagenize) January 23, 2019
While Mikael liked the V&A building itself, he took umbrage with the surrounding road system, describing it as "something from the 1950s".
He said: "I got out of the train station and saw the V&A and thought, 'oh that's great'.
"But the dominance of cars is so old-fashioned. You can't just build a pretty building and leave it at that. You can't fence it in like that.
"I think Dundee should start improving by stopping, before it's gone too far. Cycling is the future. It's not going away.
"There always will be cars, of course, but the days of an automobile dictatorship are over in most cities. Dundee wouldn't want to get left behind."
He did have some kind words for the city.
"You have a lot of beautiful old streets in Dundee and there has been some effort into making the roads nice," he said.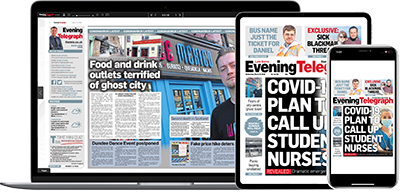 Help support quality local journalism … become a digital subscriber to the Evening Telegraph
For as little as £5.99 a month you can access all of our content, including Premium articles.
Subscribe